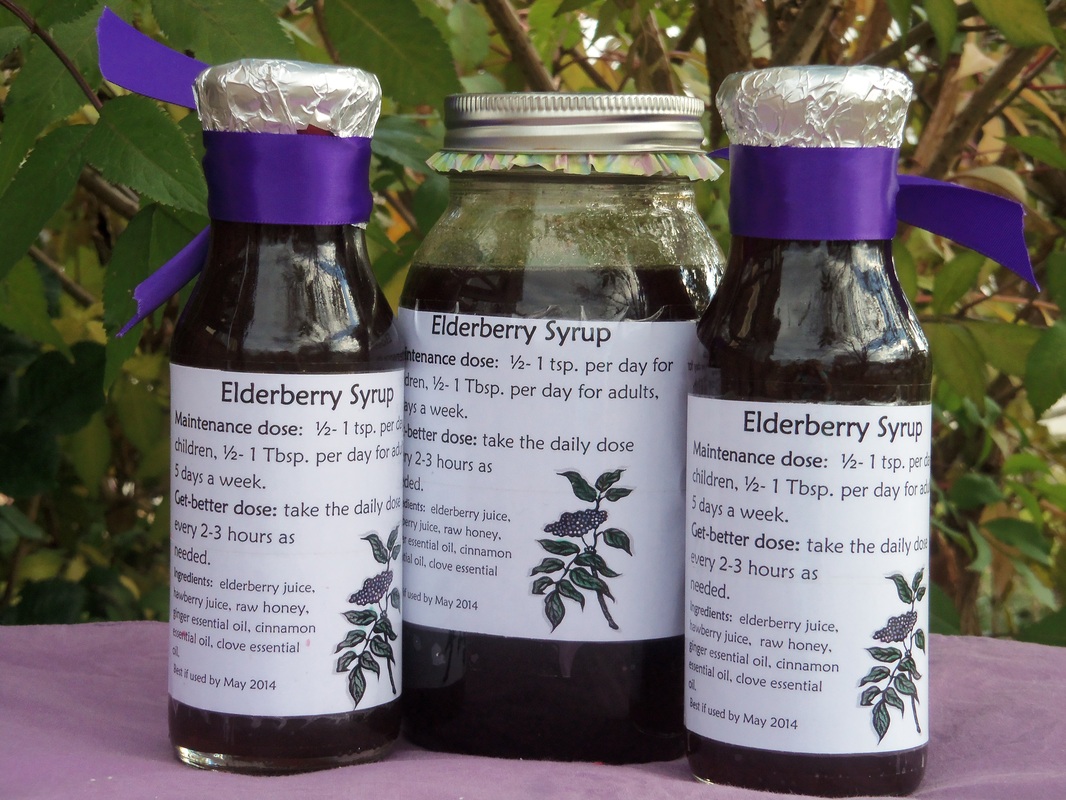 Elderberry syrup is known as a wonderful immunity booster and antiviral- which means it'll help knock down the flu or any other virus-caused illness. It's also really, really delicious on pancakes. Or a splash added to desserts or fruit salads. Or brushed on a spice cake. Or mixed with chilled sparkling water. Or... you get the idea.
Now that there's a jar in my fridge, I may have to watch to be sure my children don't sneak in and use up all my 'medicine'. Just for that reason, I wax-sealed the lids on the jars I plan to share with others.
I've already used it. My family has had a nasty cold or flu this week; we've had missed school days and work days from it. Yesterday it hit me hard, and felt like it was on the verge of turning into bronchitis or pneumonia. I've been taking either elderberry infusion (tea) or the syrup at least three times a day since feeling it come on a couple days ago, and today I feel much better. I suppose that may or may not have anything to do with the elderberries... but I'm keeping the routine up until I'm better! Yum.
I started with 2 pounds of berries, used a steam juicer, and the first 2-3 cups of juice were nice and dark; strong enough to use without boiling to condense it. The longer the berries steamed, though, the lighter the juice got, so I boiled down the last three cups to yield about 1 1/2 cups.
You'll notice in the photos below that some of those berries don't look exactly the same as the others... I have a young hawthorn tree. It produces berries, but not yet enough to make a batch of anything yet. The haw berries are said to be good for reducing inflammation (as well as normalizing blood pressure and helping strengthen and regulate the heart)- so I threw them in with my elderberries. Honey is used in this instead of sugar because of its soothing, anti-inflammatory, and healing properties.
If you want to make a wax seal, paraffin works great. I had a small ball of red cheese wax I'd saved, and used that.
Elderberry Syrup
Start with
2-3 cups elderberry juice
(depending on strength)- if not strong, boil to reduce to 2 cups. To the warm, NOT hot juice (if you want to preserve the enzymes if using raw honey), stir in these ingredients:
2 cups honey
5 drops ginger essential oil
3 drops cinnamon essential oil
2 drops clove essential oil
Store in the refrigerator. Probably best used within a couple months- though I've had syrups stay nice for a year, refrigerated. You could store them longer if you seal them in sterilized jars.
To use medicinally, take a tablespoon straight or mixed in 6-8 oz warm water, every 3 hours if you're sick and an adult, or take once a day as a general immunity booster. See the label below for more details.
If you want to start with berries but don't have a steam juicer, and want to use the spices themselves instead of essential oils, combine 4 oz (2/3 c.) berries in 3 ½ c. water, a thumb-sized piece of fresh ginger, 1 tsp. cinnamon, and ½ tsp. cloves; Simmer until water is reduced by almost half; strain, pressing on the berries. Cool until just warm, stir in honey.
On a related note, you can use jelly to make gourmet pancake syrup:
see here
.