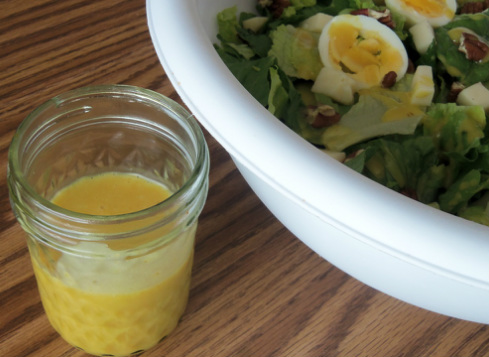 Yesterday I got to have lunch with some friends at a neighbor's house. We each brought something; Emily, whose house we met at, made
Apple Butternut Squash Soup
; this link goes to the recipe on
her
website.
I had lots and lots of Romaine lettuce on hand, thanks to another friend... so a salad seemed in order. I started out intending to make honey-mustard dressing, but it lacked something... so I looked around the kitchen to see what to use. In went some orange peel and the white parts of some green onions.
Oh.
That was
good!
Next about a pound of lettuce and the green parts of three green onions were mixed with around half of the dressing; just enough]to lightly coat. Then four or five sliced hardboiled eggs went on top, 4 oz. of cubed cheese, and a big handful of toasted pecan pieces.
Everyone loved it, except the person who didn't try it because she's allergic to eggs and nuts. :/
This would be delicious brushed onto chicken a few minutes before done baking.
Honey-Orange Dressing
Makes about 1 cup
1/4-1/3 c. honey (depends if you want this more sweet or more tangy)
1/4 c. apple cider vinegar
1/4 c. olive oil
1 tsp. prepared mustard
1/4 tsp. salt
1/4 tsp. pepper (I used 2 drops of essential oil)
2 Tbsp. onion (I used the bottom 1 1/2" from 3 green onions)
1 1/2 tsp. orange zest (I used about half the peel from a clementine)
Throw everything into a blender; puree until smooth.