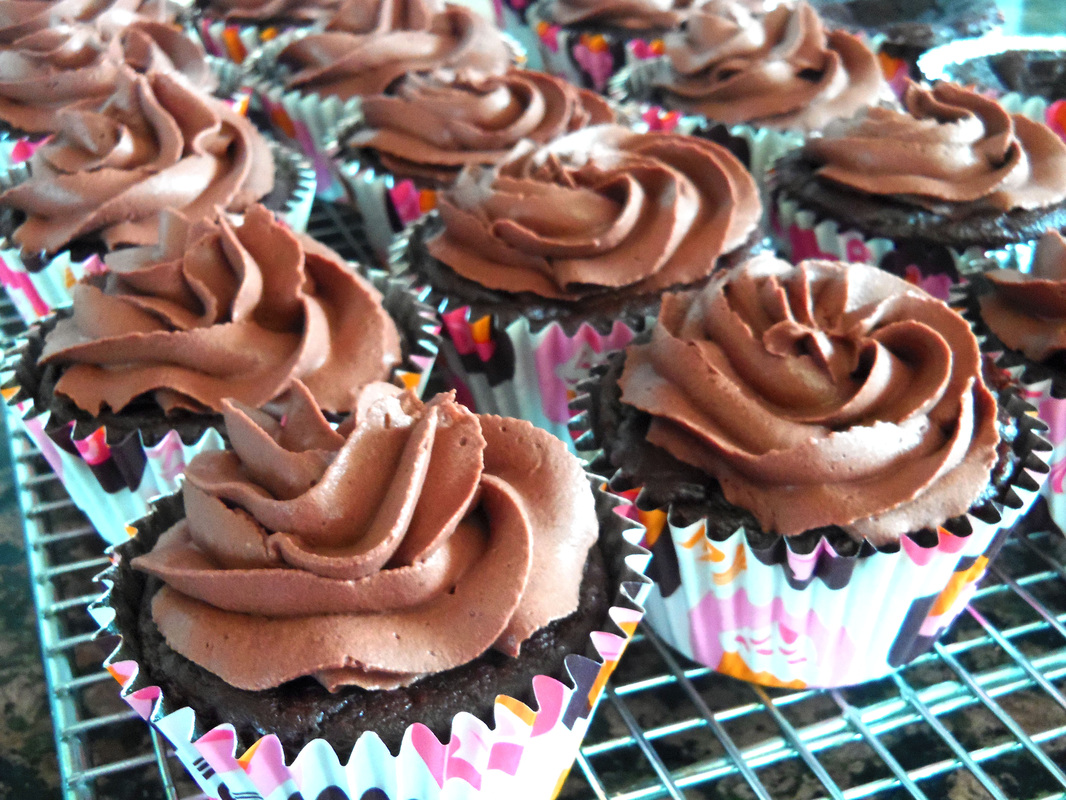 A friend recently shared this delicious recipe with me. Since I wanted to make cupcakes for a friend who can only handle sweeteners like honey and agave, it was time to tweak the recipe. You can find the original, sugar-sweetened, recipe
here
, if you want to compare it to my version. As cupcakes, they needed more moisture than the original, plus a couple things needed adjusted to allow for honey. And I discovered that the amount of water your quinoa was cooked in makes a huge difference in whether they're dry, moist, or collapse when baking. (Not to worry, the problem should be solved now!) Quinoa is technically a seed and not a grain.
I tried really hard to find a way to use just the blender to make the batter, and not need both it and a bowl, but the batter puffs up so much once the leavening is added, that it just didn't work out that way . Oh well.
Everyone who has tried these
loves
them.
Moist Chocolate Quinoa Cupcakes
1/2 c. uncooked quinoa*
1 1/4 c. water
1/3 c. any kind of milk (dairy, almond or coconut are fine)
4 large eggs
1 tsp. vanilla
3/4 c. melted coconut oil or other liquid vegetable oil
2/3 c. honey
a few drops of orange essential oil, or the washed peel of one clementine, optional
1 c. unsweetened cocoa powder
1 1/2 tsp. baking powder
1/2 tsp. salt
Cook the quinoa, covered, in the 1 1/4 cups water: either combine in the microwave or stovetop. To microwave, put them in a microwave-safe bowl, cover, then cook for 5 minutes at full power, then 5 minutes at 50% power. For stovetop: combine in a pan that has a tight-fitting lid. (If the lid isn't, use 1 1/2 cups water to compensate for what will evaporate.) Bring to a boil, reduce to a simmer, and let simmer for 20 minutes, until water is all absorbed.
*or use 2 cups cooked quinoa and omit the water.
Preheat oven to 375 degrees. Put liners in 18-24 cupcake tins, depending on how high you want the cupcakes.
Combine in a blender the cooked quinoa, milk, eggs, vanilla, oil, honey, and orange oil/peel if using it. Blend until smooth. Mix the cocoa powder, baking powder, and salt in a medium bowl. Pour the quinoa mixture over the top, and stir until well-combined. Spoon into cupcake liners, or use a spring-loaded ice cream scoop instead to portion out the batter.
For an easy, sweet topping, sprinkle each cupcake before baking with a few semisweet chocolate chips and chopped pecans or other nut.
Bake for about 20 minutes, until the top of a cupcake springs back when lightly pressed with a finger.
Frost with your favorite frosting if you like, or try
any of these
. The cupcakes above are frosted with whipped coconut cream with melted chocolate beaten in: use 1 cup of chilled coconut cream and 1 cup melted semisweet chocolate. Whip the cream until it starts to hold soft peaks, then add in the chocolate plus a teaspoon of vanilla and a pinch of salt. Beat until fluffy and smooth.