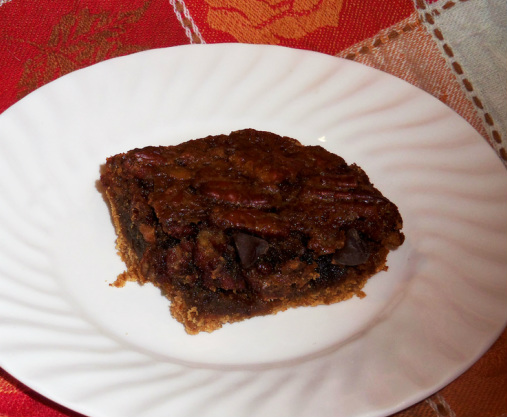 Salty, sweet, crunchy, and chewy! Makes one 8x8 pan.

Crust:
3 oz pretzels (about 1 cup), crushed
3 Tbsp. melted butter
2 Tbsp c. sugar
Bake at 350 degrees for 10 minutes or until it starts smelling delicious.

While it's baking, make the filling:

Filling:
3 Tbsp. butter
1/2 c. packed dark brown sugar
1/8 tsp. salt
1 large egg
1/4 c. corn syrup* (or use mild molasses and sub light brown sugar for dark, above)
1 1/2 tsp. vanilla
1 C. pecans, toasted and chopped coarsely
1 c. semisweet chocolate chips

Melt the butter in a small saucepan. Mix in the brown sugar and salt, stirring until the butter is absorbed. Beat in the egg, corn syrup/molasses, and vanilla. Continue to cook and stir the mixture until it is shiny and hot to the touch but not near boiling. Remove from heat; stir in pecans. Pour onto the hot crust. Bake at 350 about 25-30 minutes, until it jiggles like Jello and not like water when shaken. Cool at least 20 minutes before cutting if you want them to keep their shape.