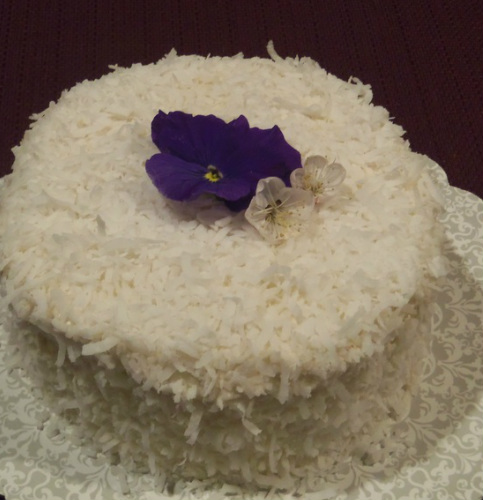 This gluten-free cake is high in fiber, but you'd never know it when eating it. It just tastes like a moist coconut cake. It also has a delicious cream cheese frosting that you can sweeten using agave or honey, and a lemon-cream cheese filling between the layers. This makes a small cake, 6" round if two layers, or a single 8" layer: a much better size for most people!
Coconut Cake:
4 large eggs
1/2 c. melted coconut oil
1/2 c. agave nectar
1 Tbsp. vanilla
1 tsp. coconut extract
1/2 c. coconut flour
1 tsp. baking soda (this is too much, I can taste it and the cake overbrowned)
1/4 tsp. salt
1/8 tsp. xanthan gum
1/2 c. shredded coconut, either sweetened or unsweetened
Cream Cheese Agave Frosting (recipe below)
1 1/2 Tbsp. orange or lemon marmalade
1 cup sweetened shredded coconut
Preheat oven to 350 degrees. Grease sides and line bottom of a 6" round pan* with a circle of parchment paper. Set aside.
Whisk eggs until light in color and a little foamy, about 2 minutes. Add the coconut oil, agave, vanilla, and coconut extract; mix well. Add coconut flour, then put the baking soda, salt, and xanthan gum on top of the coconut flour, and mix all together. The batter will be very thin at first, but will thicken within minutes as the coconut flour begins absorbing liquid. Stir in the 1/2 c. shredded coconut.
Pour into the prepared pan. Bake until center no longer jiggles and toothpick inserted in center comes out clean, about 45 minutes. Run a knife around the outside edge of the cake to loosen it. Cool cake, in the pan, on a cooling rack for 10 minutes. Remove from pan/s and cool completely.
When cool, split the 6" cake into two layers. Frost the first half with lemon-cream cheese filling. Place the other layer on top of the filling, then frost the entire cake. Pat coconut onto the sides of the cake, then sprinkle it all over the top.
*If you don't have a 6" round, you may use either one 8" round (reduce baking time to about 30- 35 minutes), a 9x5 loaf pan (about the same baking time), 12-15 cupcakes (about 30-35 min. of baking), or four 4" round pans (reduce baking time to 18-20 minutes each).
Cream Cheese Agave Frosting
: use the recipe for
Fluffy Honey-Cheesecake Frosting
, except substitute agave for the honey.
To make the
lemon-cream cheese filling
(or orange-cream cheese filling), take 3/4 cup of the Cream Cheese Agave Frosting and put it in a small bowl. Add 1 1/2 Tbsp. marmalade and stir.