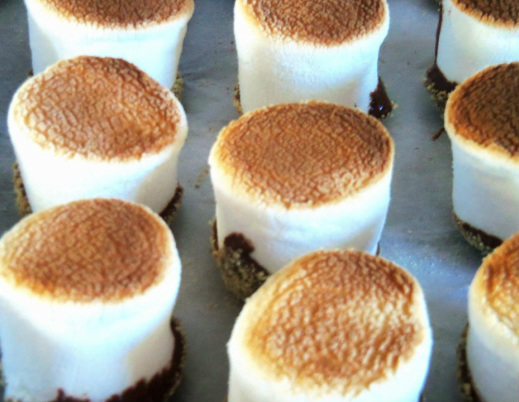 The fastest, simplest S'mores ever! My 6-year-old had a blast making these nearly by herself. If you have a toaster oven, you can make just a few and hardly heat the kitchen up at all. Even a big batch doesn't make your whole kitchen hot, or make you smell like campfire, or have the neighbors wondering what's on fire.
If you use GF/CF chocolate chips and GF grahams, these are also a gluten-free, dairy-free treat.

For a big batch, you will need:

1 cup chocolate chips (milk chocolate or semisweet, you choose)
one 10-oz bag regular marshmallows
1/2 cup graham cracker crumbs (I used precrushed ones) OR 4-5 crackers, crushed
Also:
A cookie sheet, an oven with a broil setting, and a sheet of parchment if you want the easiest cleanup.

Put the oven rack in the highest position. Dump the chocolate chips into a microwaveable bowl; I used a Corelle cereal bowl. Microwave for one minute; stir. If it's not quite melted, microwave 30 seconds more; stir. Repeat if needed, but once you get past 2 minutes it overheats and clumps. (You can rescue it by stirring in 1-2 tsp. oil.)

Dip the bottom half of a marshmallow into the chocolate, then dip into graham cracker crumbs. Place on cookie sheet, at least 1/2" apart.

Turn the broiler on and put the marshmallows in. If you have HI and LO options, here's what happened in my oven with them:

HI: browned at 35-40 seconds. Centers were still firm.
LO: browned at 1 1/2- 2 minutes. Nearly the whole marshmallow was now melted and gooey.

Either way, watch these things closely! Don't walk away for even a few seconds or they may be black when you get back. Flaming marshmallows over a campfire in the dark may be entertaining, but they're not nearly as amusing in the house!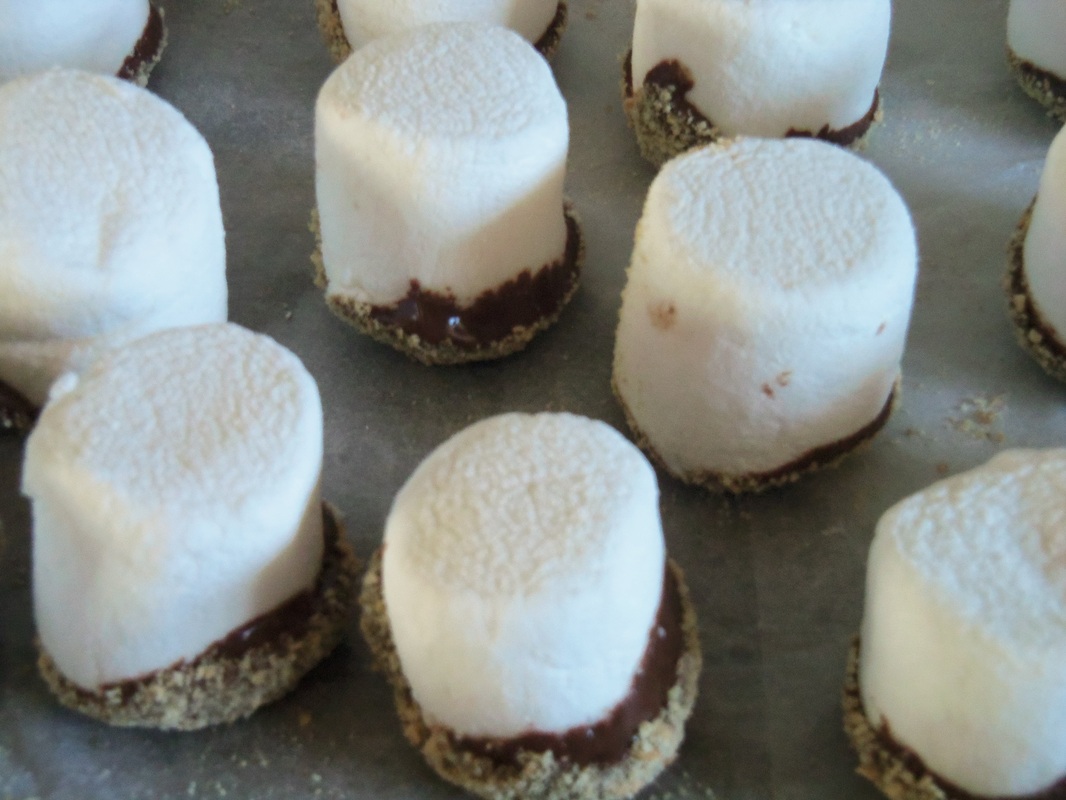 The marshmallows ready to be broiled.