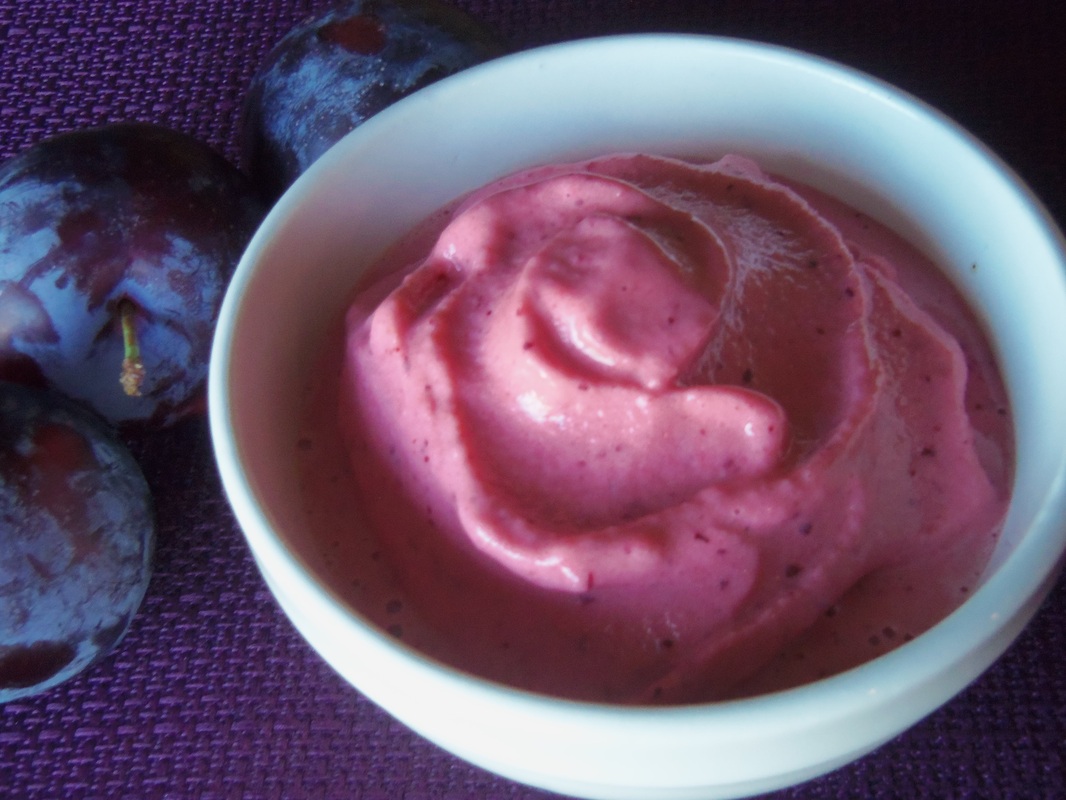 Santa Rosa plums are dark on the outside, often with a bluish hue that rubs off, ruby-colored inside, and explode with sweet juice when you bite into a fully ripe one. They are apparently highly prized, which is nice for me, because my 3-in-1 plum tree is about half Santa Rosa. They tend to ripen pretty much at once, which means we have only about a two-week window for eating them fresh, and need to be quick about canning, drying, making jam, or otherwise using them.

Gelato usually uses milk instead of cream, and sometimes fewer egg yolks, as well. If you use whipping cream in place of the milk, you'll have plum ice cream instead. You can triple this batch if you really, really want to pull out your ice cream maker, but this smaller batch can be made using a high-speed blender. It's lightly sweet, with just enough brightness from the fruit, and full of flavor. And yes, you may use other types of plums. The color may or may not be the same, though, depending on the variety you use. If you can't have eggs, you could thicken the milk with 1 Tbsp. cornstarch instead, but it won't be as creamy.

One pound of plums can mean anything from 4-10 plums, depending on their size. If yours are small, ping-pong-ball sized, you'll need about ten. If they're big ones, 2 1/2" across or so, you'll likely need only 4-5. Either way, the goal is to end up with about 1 3/4 c. puree.

Santa Rosa Plum Gelato
Makes about one quart

1 lb. Santa Rosa plums
1/8 tsp. almond extract, optional but delicious!
1/2 tsp. vanilla extract
1 c. whole milk, divided (dairy-free options include almond milk, rice milk, or coconut milk)
2 egg yolks
pinch of salt
1/2 c. sugar

Wash plums and remove stems. Remove pits; you'll to cut them out. Drop the pitted plums into a high-speed blender, add almond and vanilla extracts, and blend until smooth. Pour into two empty ice cube trays. Pour 1/3 c. of the milk into the blender and swish it around to get more of the puree; pour this into the ice cube trays as well. Put them in the freezer.

Combine the two egg yolks, salt, and the sugar in the unwashed blender. Heat the remaining 2/3 cup milk in the microwave for 1 minute, until steaming. Meanwhile, turn the blender on to beat the yolks and sugar. With the motor running, pour the hot milk in a thin stream into the yolks. Once it's all in, increase speed to high, and run about two minutes, until the custard thickens slightly. It will begin to coat the blender sides with a slightly thicker, opaque coating, and the mixture will steam quite a lot.

Pour the custard into a container with a lid; refrigerate. Wash the blender; there's not much more unpleasant to wash off than dried egg yolk!

3-4 hours later, pull both the now-frozen puree and the now-chilled custard out. Pour the custard into the (washed!) blender, add the puree cubes, and blend, using the plunger handle to get them to mix.

The gelato will be a soft-serve consistency. If you want to be able to form round scoops, pour in a container and return to the freezer for another 1-3 hours.