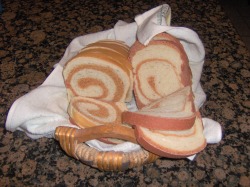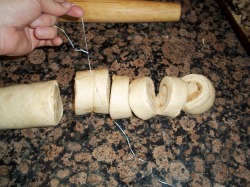 The photo above is swirl bread- half of it is made with all white flour, the other half with partly whole wheat, along with beet juice for color. (You were right if you thought it looked pink.) The bread does not taste like beets. For some reason, the color is always the most pink on the outside. Another fun thing to do is make a three-color bread braid- one white, one wheat, one beet.

Cutting cinnamon rolls my favorite way- with dental floss. Yes, you do have to use both hands, one for each end of the floss, but I had to take the picture somehow...
Slide the floss underneath the dough, then cross them over until they slice neatly through the roll.
---
Making Bread
Basic Bread
There's nothing that says 'home' better than the smell of freshly-baked bread. This recipe is good for white bread, whole-wheat bread, dinner rolls, pizza, cinnamon rolls, and much more. It's no more work to make six loaves than two, so make a big enough batch to fill your oven.

Six 8x4" loaves: Two loaves:

2 Tbsp. salt 2 tsp. salt
2 Tbsp. yeast 2 tsp. yeast
½ cup -1 cup sugar 1/4 -1/3 cup sugar
½ cup oil 3 Tbsp. oil
6 cups hot water (hottest from faucet, not over 130 degrees) 2 cups hot water
8 cups flour to start- will use around 16 total 3 cups flour to start- will use
5-6 cups total

Mix salt, yeast, sugar, oil, water, and first amount of flour in a bowl. Beat about two minutes with a wooden spoon. Stir in half of what's left, then mix in more until too stiff to stir. Dump out onto a floured counter and knead for 8-10 minutes, adding only enough flour to keep the dough from sticking to the counter. The dough should be smooth and elastic after kneading. (Yes, you could use a stand mixer for this, too….)

Cover with a kitchen towel or plastic grocery bag and let rise 1 to 1 ½ hours, or until doubled. Punch down and shape into loaves. Place in greased 8x4 loaf pans and let rise about 45 minutes or until nearly doubled. Bake at 350 for about 30 minutes or until the sides of the bread are brown. (Tip a loaf out of the pan to check.) Remove from pans and cool on a rack.

100% WHOLE WHEAT BREAD-
Use the ingredients above, using all whole wheat flour. Combine all the water (make it hot!) and the same amount of flour but none of the other ingredients (i.e., 6 c. water, and 6 c. whole wheat flour). Beat for TEN MINUTES (a standing mixer is great for this!). This helps develop the gluten, which makes lighter, chewier bread- the friends of gluten are heat, movement, and liquid (acidity, too, but we're leaving that out here. Enemies include salt and fat.) Then add all other ingredients and knead for about 5-7 minutes. Alternately, you can add one of the following for a 6 loaf recipe: between 1/4 and1 c. vital wheat gluten, 1/4 c. lecithin, 1/4 c. dough enhancer, or 1000 mg Vitamin C, crushed or dissolved in water. Or use 1-2 cups of all-purpose flour in place of some of the whole wheat. All of these improve texture and reduce coarseness. Any of the variations below can be made with whole wheat.

OATMEAL-MOLASSES-
For 6 loaves, use 1 c. molasses in place of sugar, 3 eggs, and 2 ½ c. rolled oats. Also good using half whole wheat flour, and/or substituting 1 c. orange juice for 1 c. of the water. After shaping, mist loaf with water or brush with beaten egg white, then sprinkle top of loaf with additional rolled oats.
Or if you have leftover oatmeal from breakfast, dump it into the basic bread recipe. That's it.

PIZZA-
Use the basic recipe as is (can reduce sugar to 1/4 c.) or to one loaf's worth of dough, knead in 1/4 tsp. garlic salt, 1/4 tsp. oregano. Roll to fit a cookie sheet oiled OR sprinkled with cornmeal. Prick all over with a fork and bake at 450 til lightly browned. Spread with 1 small can tomato sauce, sprinkle with garlic, basil, oregano, thyme, fennel, etc. to taste, put on toppings and bake til cheese melts

ROLLS-
For 6 loaf recipe, use 1 c. sugar and 2 eggs in recipe. This recipe will make 2-3 trays of closely spaced rolls. For shiny rolls, brush with beaten egg (whites, yolks, or both) before baking, or brush with milk or butter for better browning.

Cinnamon Rolls- 6 loaf recipe makes 3 trays- divide dough in thirds, roll one lump into a rectangle about 24"x16", spread one tray's worth of dough (two loaves' worth) with 1-2 Tbsp. softened or melted butter, sprinkle with as much sugar as you can comfortably fit in one hand (about 3 Tbsp.), sprinkle with cinnamon (1-3 tsp.), then roll up to make a 24" long roll. Cut with dental floss and place on greased cookie sheet. Let rise, then bake. Frosting for one tray: 2 Tbsp. butter, 1/4 c. milk, 1 tsp. vanilla, enough powdered sugar to get the consistency you like (about half a bag). You can also add a couple ounces cream cheese to this frosting.

Caramel Nut Rolls- Follow directions for cinnamon rolls except sprinkle with brown sugar and some chopped nuts (any kind). Place on HEAVILY buttered cookie sheet that has been sprinkled with 1/4- ½ c. brown sugar, and ½ c. chopped nuts. After baking, flip upside down and let sit 10 minutes, remove tray. After cooling, frost with Caramel Frosting: boil together for one minute 2 Tbsp. butter, 1/4 c. milk, and ½ c. brown sugar. Let cool slightly, then beat in 1-2 c. powdered sugar and ½ tsp. vanilla or maple flavor. (Frosts one tray)

Hamburger or hot dog buns: Roll dough ½" thick Cut with a wide-mouth canning jar ring. Brush with milk or beaten egg white, sprinkle with sesame seeds. For a hot dog bun, fold circle over and stretch to shape.

Butterhorns: Divide dough into six pieces. Roll each piece into a circle 12" across. Brush with melted butter and slice, pizza-style, into 12 wedges. Stretch the wide side of a wedge slightly to make it about an inch wider, then roll up, tucking point under roll. Let rise and bake.

Dinner Rolls: Divide into six pieces, then each piece into 12 balls. Pinch bottoms to form a tight, smooth top, then rise and bake.

Parkerhouse Rolls: Roll dough 1/4 " thick, cut with a regular-mouth canning ring or 2 ½" round cutter. Brush with melted butter, fold almost in half, putting smaller side down on cookie sheet.

Cloverleaf and Shortcut Cloverleaves: Divide dough in six pieces, each piece into 12. For shortcut Cloverleaf roll, form each into a smooth ball and place in greased muffin tin. Snip across top with scissors, then make another snip perpendicular to it, to divide top into 4 points. For Cloverleaf, divide each twelfth into thirds, forming each into a smooth ball; place 3 in each muffin tin.

SWEET BREADS-
Make dough the same as for rolls, using 1 c. sugar, eggs if you want, not if you don't. They make the dough more springy, moist, and tender.

Roll each loaf's worth of dough (1/5 of batch) into a rectangle 8"x 20". For Cinnamon Swirl bread, sprinkle each rectangle with 1/4 c. sugar and 1 tsp. cinnamon; roll up and place in pan, seam side down. After baking, drizzle with a powdered sugar glaze. Raisin Swirl bread, follow directions for Cinnamon Swirl, but also sprinkle 1 c. of plumped raisins onto rectangle before rolling. Or forget rolling the dough into a rectangle; mix raisins directly into dough (5 cups for the whole batch). Raspberry Swirl- spread 1/3 c. of raspberry filling onto rectangle, avoiding the last 2" of the rectangle so it will seal when you roll it up. Place in pan seam side down. Any other fruit filling will work, as well. Glaze when cool. Daisy Ring: Roll a loaf's worth of dough into a circle 15" across. Put a cup in center of dough and cut from edge to cup to make 20 'petals'. Twist two together and pinch ends to seal. Coil one twist into the center where the cup was, coil remaining twists toward center to form a daisy design. Let rise and bake, then top with ½ cup jam and drizzle with glaze.