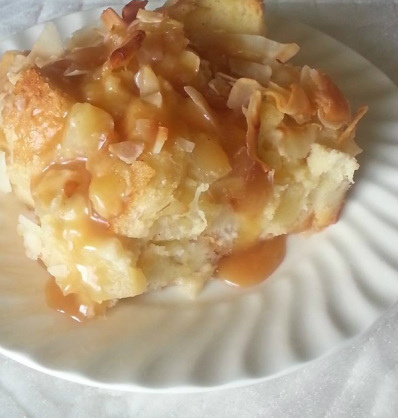 Pineapple-Coconut Bread Pudding
1 (20-oz) can crushed pineapple
¾ cup sugar, divided
2 c. cream or coconut cream*
½ tsp. salt, divided
1 loaf stale French bread, cut in 1" cubes, or a pound of other bread, cubed
1/2 tsp. cardamom
3-4 eggs
1 c. whole milk or coconut milk
2 tsp. vanilla
1/2 c. shredded coconut
If your bread isn't already stale and dry, put the bread cubes in the oven at 375 until they're dried out.
Make a caramel sauce- combine 2 Tbsp. juice from the canned pineapple with 1/2 c. sugar in a saucepan. Heat on high until brown, stirring often. Add 3/4 c. cream; stir until the caramel chunk has dissolved. Add 1/4 tsp. salt. Pour about half of this into the bottom of a greased 9x13 pan. Save the rest.
Mix together bread, undrained pineapple and cardamom. Dump into a 9x13 pan. Using the same bowl as before, beat the eggs, then stir in 1/4 c. sugar, the remaining cream, milk, vanilla, and 1/4 tsp. salt. Mix until sugar dissolves. Pour all of this over the bread and let sit for 5-20 minutes to soak. Sprinkle the coconut over the top.
Bake at 375 degrees for 30-35 minutes, until center is set. Serve warm, with a little of the remaining caramel sauce drizzled on top.
*If you don't have cream, use milk instead, for a total of 3 cups. Also melt 1/4 c. butter and beat it in with the eggs.