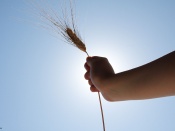 (originally from 8/5/10)
Do you have garden produce yet? Or are you seeing it at farmers' markets? We got the first yellow summer squash of the year yesterday. This is exciting! Unfortunately, we don't have zucchini at all because one of my little people stepped on the plants just as they were coming up. I replanted, but didn't water well enough that first week…
Fortunately, I still have frozen zucchini from last year. I used to shred it and freeze it in quart bags, which was the proper amount for a double batch of my zucchini bread, but didn't like how it thawed. It separated into water and strings of fiber. That's kind of baffling to cook with. There's a much better way- puree it! Chop the zucchini into chunks small enough to fit down your blender, and buzz until smooth. A bonus is that the texture of your baked goods will be smoother.
Our favorite recipe to use it is Lemon Zucchini Bread. It has a little more flavor if you use fresh lemons, but is still good using bottled lemon juice and dried lemon zest. Or use your lemon-zest-sugar, (find it in the archives under 'homemade orange seasoning', in the Spices or Seasonings category, right. And FYI, Zucchini bread, since it's a 'quick bread', is simply a variation on the muffin recipe. To see for yourself, go look at the 'Anything-Goes' Muffin recipe.
* * * * *
Now, for the thought of the week- a First Presidency message from 1984, reprinted in the Ensign last year as one of the 'classics'- "The Celestial Nature of Self-Reliance". Or, 'what does self-reliance have to do with eternal life'? Think about it: Is food/money/water storage a suggestion or a commandment? This article has something for any of us to work on- whether you haven't started, are a little ways into it, making a lot of progress, or have built up all your reserves. I HIGHLY recommend re-reading the whole article, below is a condensed piece of it:
"Since the beginning of time man has been counseled to earn his own way, thereby becoming self-reliant. It is easy to understand the reason the Lord places so much emphasis on this principle when we come to understand that it is tied very closely to freedom itself.
Now, I wish to speak of a very important truth: self-reliance is not the end, but a means to an end.
Doctrine and Covenants 29:34–35 tells us there is no such thing as a temporal commandment, that all commandments are spiritual. It also tells us that man is to be "an agent unto himself." Man cannot be an agent unto himself if he is not self-reliant. Herein we see that independence and self-reliance are critical keys to our spiritual growth. Whenever we get into a situation which threatens our self-reliance, we will find our freedom threatened as well. If we increase our dependence, we will find an immediate decrease in our freedom to act.
The key to making self-reliance spiritual is in using the freedom to comply with God's commandments."
For the whole article, which I know can bless everyone's life, go to The Celestial Nature of Self-Reliance at lds.org.

If using fresh lemons for this recipe, you'll need two.

Lemon-Zucchini Bread
1 lb. zucchini or other summer squash (4 c. loosely packed, or 2 cups pureed)
¼ c. lemon juice*
2 Tbsp. fresh lemon zest, OR ½ tsp. lemon extract, OR 1/8 tsp (16 drops) lemon essential oil
2 c. sugar
½ c. oil
3 eggs
3 c. flour
1 Tbsp. baking powder
1 c. chopped walnuts, optional
Place lemon juice, zest, sugar, and oil in a bowl and beat. Add eggs, one at a time, beating well after each. Stir in flour and baking powder, then add zucchini and nuts. Pour into two greased and floured 9x5 loaf pans. Or use three 8x4 pans. Bake at 375 degrees about 50 minutes (40 for 8x4 pans) or until a toothpick inserted near center comes out clean. Let cool in pans for 10 minutes, then turn out onto a cooling rack. Wrap or bag when completely cool. The flavor is even better the next day.
See the blender-mixing-method here.

*An acceptable substitute for lemon juice in this recipe is 1/4 cup vinegar (apple cider vinegar is better but not necessary) and a little bit extra lemon zest, extract, or essential oil.