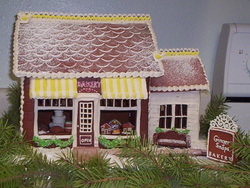 It's that time of year...
to make gingerbread houses! Whether you want to make one for a competition, or just make something fun with your children, here's my family's
tried-and-tested favorite recipe for eating AND building
. (See
here for a gluten-free recipe
, or just substitute a GF flour blend in place of regular flour.) We have a yearly tradition of everyone in the family decorating a small house. If you want a recipe that will bake up thin yet strong, suitable for competition-level houses, the next couple pictures are of this one. The eating/building recipe has more leavening and therefore a lighter crunch. The 'building' recipe, below, is also good, but more dense. Be sure to roll this one thinly!!!
See here for
Part 2- Assembling and Decorating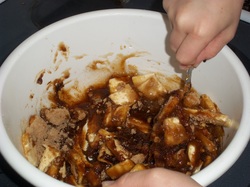 For the full recipe, along with more instructions, tips, and things I've learned, it's also on the link above. Put in a large bowl or medium saucepan: 1 1/2 c. light corn syrup, 1 1/4 c. brown sugar, and 1 cup butter. This will be easiest if you cut each cube of butter into 5-6 chunks.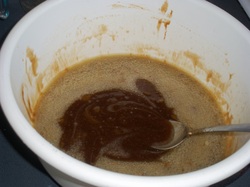 Heat in the microwave about a minute or until everything melts and can be stirred together. If using a saucepan, heat over medium-high, stirring until the sugar and butter melt.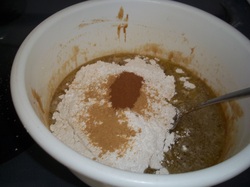 Add the dry ingredients to the bowl:
6 3/4 c. flour, 1 Tbsp. cinnamon, 1 1/2 tsp. ginger, 1/2 tsp. salt.

I like to grab the dry stuff with my fingers and mix lightly before mixing it with the wet, this saves the step of pre-stirring all the dry ingredients in a separate bowl first.

Stir until everything is mixed well.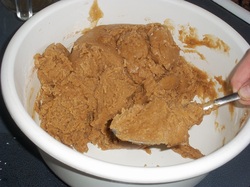 This dough will be warm and firm yet soft; it gets stiffer as it cools. It's easiest to roll out while still warm.
If it gets too stiff, return to the microwave for 30 seconds to rewarm it.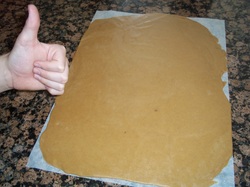 Divide dough into 2 or three pieces. Working with one a time, roll directly onto parchment, if at all possible. This will save you immeasurable aggravation!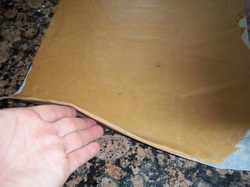 Try to get it an even 1/8" thick. As you can see, this is quite thin. The corn syrup gives this dough a lot of strength.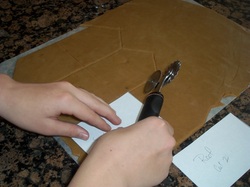 Put your pattern on top of the dough, and cut around each piece. Try to have each piece touching as much as possible. The easiest way to cut them, by far, is to use a pizza cutter or pastry wheel.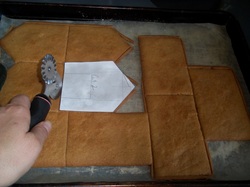 Bake until golden brown and firm to the touch. Pull out of the oven, and IMMEDIATELY re-cut the pieces, if you need them to be exact. They will have spread a little bit. If you're making eight houses for your family, you can skip this step!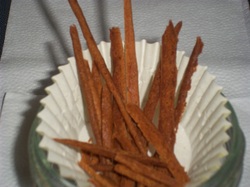 My favorite part of baking gingerbread houses: eating the 'twigs', the skinny little pieces trimmed off the house parts. They are addictive!
To make stand-up trees, cut out two for each tree. Cut a section out of the middle of one of the pieces, as wide as your dough is thick. You'll 'glue' one of these halves on the front of the whole tree, the other half on the back.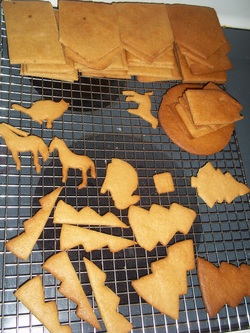 Cool on a cooling rack. When all the way cool, I like to stack all the pieces for one house in each stack. Here are five houses, ready to put together.
Next is the really fun part- decorating! That will be another post in a couple days.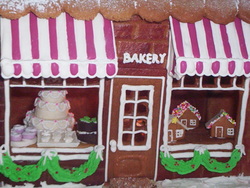 It's the little details that make gingerbread so fun!