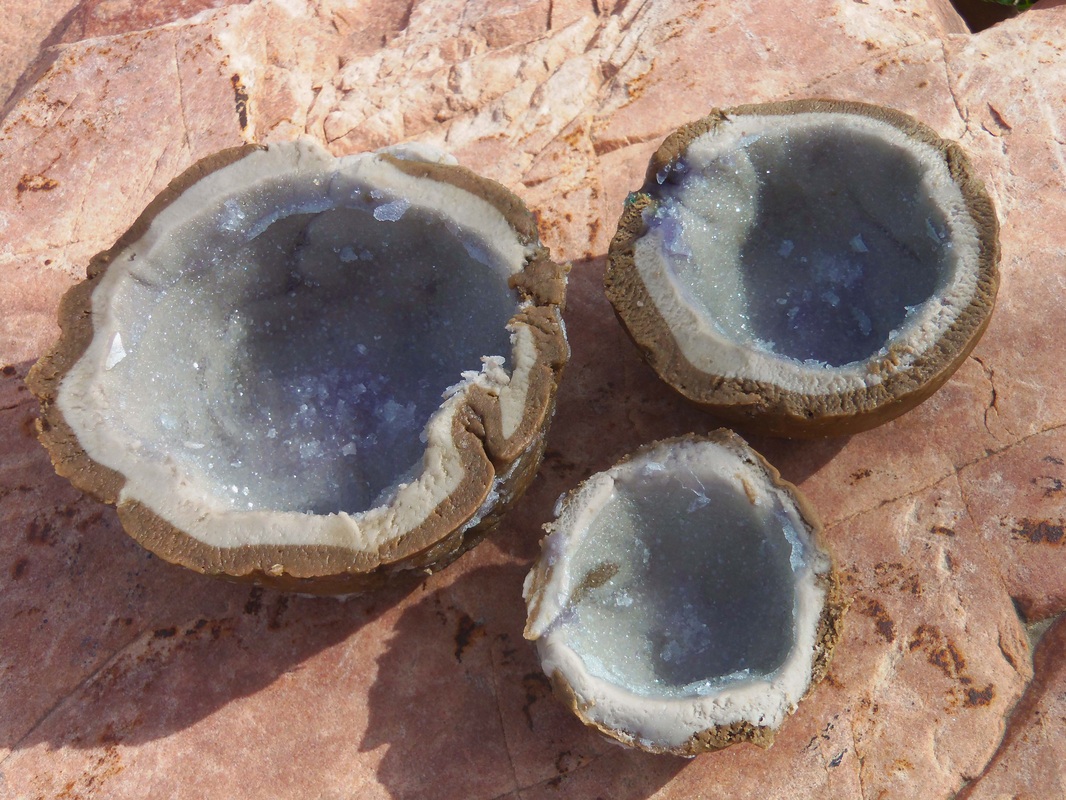 These are fun. We made them as a little homeschool science project. EVERYONE in the family thought these were awesome, and we had enough to give a couple to some of my son's friends who are fascinated with rocks. My next-door-neighbor, the Webelos Scout leader, pointed to a pile of broken rocks on her sidewalk. "This," she said, "was what we did so the boys could feel like they might find a geode- we gave them hammers and rocks from our yard. We should have made these instead!"

They'd love them too.

These would make some amazing and unusual Easter eggs, too: make a bunch the same size and wrap two halves together to form a ball.

Edible Geodes
Crystal-growing solution (Rock candy syrup)
1 ½ c. sugar
½ c. water
Mix the two, heat on high in a small saucepan, and stir until the sugar completely dissolves. Add several drops food color if you want, along with ½ tsp. flavoring (optional). Let cool a bit while you make the rock shells.

Rock Shell (Marshmallow Fondant)
8 ounces marshmallows
2-4 Tbsp. water
1 lb. powdered sugar
¼ c. coconut oil or shortening

Mix marshmallows with 2 Tb. water in a microwave-safe bowl, heat for 30 seconds in microwave. Stir. Microwave 30 seconds more, stir. Repeat until it's melted and smooth. Add the powdered sugar and mix with a spoon and then with your hands. Spread 1 Tbsp. coconut oil on clean counter, knead the fondant on top adding more coconut oil when needed. When smooth and stiff, take half of it and set aside. Take other half and knead in ¼ c. cocoa powder to make fondant brown. Roll out ¼" thick. Roll out the white half to the same size and stack them on top of each other. Line a few bowls with aluminum foil, sprayed with nonstick spray. Cut a piece of the two-layer fondant to fit, and line a bowl with it, with the brown side touching the foil. Repeat until you run out. Trim off any fondant that is beyond the lip of the bowl, using scissors. Set aside.

Pour the sugar syrup into the fondant-lined bowls. Let them sit, undisturbed, for at least a day (or 2-3 days for bigger crystals). When ready, break the surface and pour off the syrup. Turn the geodes upside down to drain for an hour. They're ready!