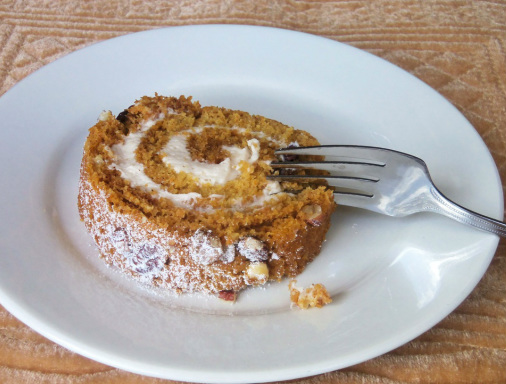 Pumpkin Roll
Makes 18, 1" slices.

4 eggs
1 1/3 c. sugar
1 c. pumpkin
1 c. flour
1 tsp. baking powder
1 Tbsp. cinnamon
1 1/2 tsp. ginger
3/4 tsp. nutmeg
½ tsp. salt
1 c. chopped nuts, optional

Beat eggs until well mixed. Gradually add sugar; this should take about two minutes. Beat on high for another two minutes, until sugar is mostly dissolved and the mixture is thick and pale lemon-colored.. Stir in pumpkin. Fold in flour, baking powder, spices, and nuts. Grease and flour a 12x18" cookie sheet with 1" high sides, OR line it with parchment and grease the pan sides.. Spread batter in pan and sprinkle with nuts. Bake at 375 for about 15 minutes, or til the cake springs back when pressed gently in the center. Remove from oven. While cake is hot, flip cake over onto a kitchen towel sprinkled liberally with powdered sugar. Holding one of the wide sides of the cake, very carefully roll it up with the towel, cinnamon roll style. When cool, 2 to 4 hours later, unroll slowly and spread with cream cheese frosting. Roll the cake again, without the towel! Slice and serve.

You can make this ahead of time and freeze it for later use.
If you don't have a 12x18" pan, but have a 10x15 pan, cut the recipe in half. The batter will not be as deep in the pan, so bake a few minutes less. (Mine took 12 minutes.) Roll as above, but hold a narrow side as you roll it up. This will give you one 10" wide roll.

Fluffy Cream Cheese Frosting
(the 1-1-1-1-1 recipe)

1 stick butter (1/2 c.), softened
1 c. powdered sugar
1 Tbsp. lemon juice OR water or milk (lemon accents the zing of the cream cheese)
1 tsp. vanilla
1 (8 oz.) pkg. cream cheese, chilled and cut into 8 cubes

Combine butter with powdered sugar, lemon juice, and vanilla. Beat until smooth. Add cream cheese, one cube at a time, beating until smooth after each. Once they're all incorporated, beat another minute or until frosting is fluffy.