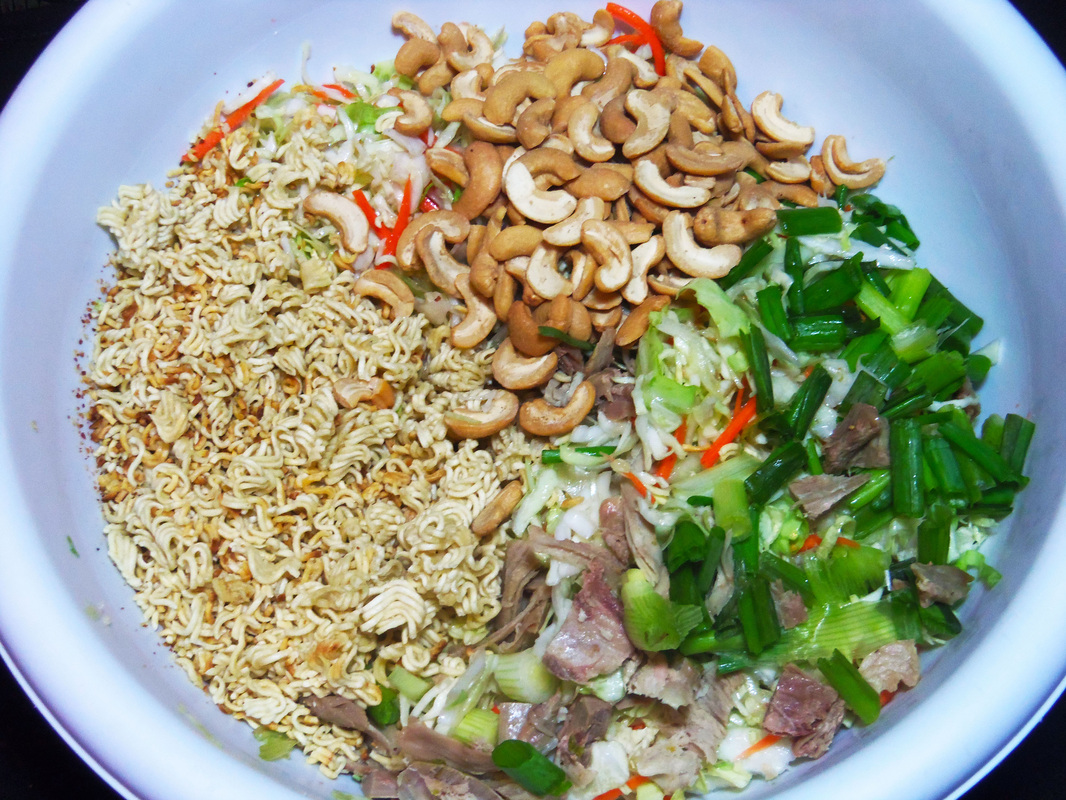 Most salads like this use so much dressing that there's a pool of it at the bottom of the bowl. And the dressing is about all you taste.
Not this one. There's enough oil in the salad to help you unlock those fat-soluble vitamins; both cabbage and cashews are very high in Vitamin K. And you can actually taste the cabbage, in a way that accents only its best features.

If you have any left over, even though the noodles will not stay crunchy by the next day, the cabbage does.

Cabbage Ramen Salad Serves 4-6. Or two who really, really like it.

1 tsp. olive oil
1 package Ramen noodles
2 Tbsp. olive oil
1 Tbsp. rice wine vinegar or apple cider vinegar
1 Tbsp. honey or sugar
1/2 tsp. salt
1/4 - 1/2 tsp. black pepper
1/2 tsp. ginger OR 1 1/2 tsp. chopped crystallized ginger OR 1 drop ginger essential oil
1 small cabbage, shredded, OR a 14-16 oz package coleslaw mix (cabbage and carrots)
2 green onions, chopped
1 c. cooked turkey or chicken, diced
1/2 c. cashews, optional

Heat 1 tsp. olive oil in a large skillet on high heat. Break the Ramen noodles into small pieces and add to the hot oil. (You won't need the flavor packet for this recipe.) Stir dry noodles constantly for about 2 minutes, until some of the noodles start turning a toasty brown. Remove from heat and set aside.

In a medium bowl, combine remaining 2 tbsp. olive oil, vinegar, honey/sugar, salt, pepper, and ginger. Stir well to combine. Add the cabbage or coleslaw mix, green onions, turkey/chicken, and cashews. Stir thoroughly, until no puddle of dressing remains on the bowl's bottom. Serve right away for the crunchiest noodles.