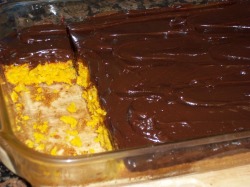 Chocolate Blender Frosting on pumpkin cake.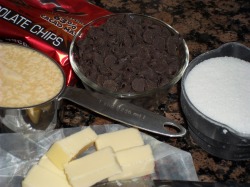 Dump these in the blender, mix on high...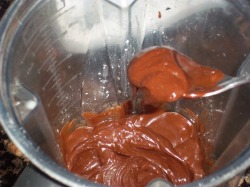 ...until it looks like this. Yum!
Hi everyone,
Most of the garden is done right now, since the frost a couple weeks ago. Here's a section from one 'Fall Gardening checklist' online:
"After you harvest, it's time to clean up your garden. Cut back perennials to a few inches above the ground -- they'll grow back next year -- and pull out annual and vegetable plants.
Put healthy plants on the compost pile, said Toby Day, associate horticulture specialist at Montana State University Extension. "But if the plant material is diseased, throw it away instead of composting it. Most compost piles don't get hot enough to kill disease or insects." Also, throw away weeds so they don't go to seed in your compost.
Day recommended a few related cleanup jobs before the temperature drops: Remove soil from pots and bring them indoors so they won't freeze and crack. Bring in liquid fertilizers and other substances that shouldn't freeze. Blow out your irrigation lines. And clean, sharpen and oil garden implements so they don't rust.
Enrich your soil before you head indoors for the winter. Larry Sagers recommended shredding everything from corn stalks to woody branches and tilling the material into the ground. If you don't have a shredder, he suggested renting one for the day. "Compost costs around $30 to $50 per yard to buy," he said. "My take is I'll shred my own."

Read more:
http://www.ehow.com/feature_7293587_fall-gardening-checklist.html


* * * * * *

This is a fabulously smooth frosting. The consistency is closer to store-bought frosting than any other homemade I've found, but the flavor is WORLDS above the stuff from a can. For a wonderful, rich hot fudge sauce, see below, There are pictures on my blog of how to make this, and lots of variations- milk chocolate, butterscotch, caramel, peanut-butter chocolate, 'Nutella' flavor- click on this link: Creamy Blender Frosting

Creamy Chocolate Blender Frosting
(original, very dark version)
6 blocks (6 oz.) unsweetened chocolate
1 ½ c. granulated sugar
1 c. evaporated milk, cream, or coconut cream
6 Tbsp. butter (not margarine)
1 tsp. vanilla

Pinch of salt, optional
Chop chocolate, then put everything into a blender. Blend on low until better chopped, then scrape down sides with a spatula. Blend on high until it becomes dark and smooth. This may take about ten minutes, or only two minutes in a Vitamix or similar. Makes 3 cups.
For different flavors, try using a different extract than vanilla- maple, orange, rum, mint. You could also add a teaspoon of frozen concentrated orange juice, a couple Tbsp. of maraschino cherry juice in place of the same amount evaporated milk (along with maybe a 1/2 tsp. almond extract). Or 1/2 tsp. cinnamon for a nice winter flavor.
You can reduce chocolate to 5 blocks, for slightly less intensity, and have it still work.
If you have any extra frosting, use it as a base for hot chocolate: 2-3 Tbsp. per cup of milk, use a blender to mix. (Personally, I use up my extra by putting it on a spoon...)
Hot Fudge Sauce: Use the same ingredients, except reduce butter to 2 Tbsp. Instead of mixing in a blender, bring to a boil in a small saucepan; let cook for 2 minutes, until sugar is dissolved.