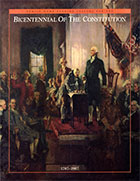 (originally from 6/11/10)
This last week I moved my bookcases around (thanks to a great organizing suggestion from a neighbor) and found a treasure:
In 1987, to celebrate the Bicentennial of the signing of the Constitution, the Church published a 14-page booklet with Family Home Evening lessons on the Constitution and the Founding Fathers. I had a copy hiding amongst our books. It's also available online. The lessons are great for teaching simply and powerfully what is at the heart of our country's existence. At the following website, halfway down the page you can click to download this in pdf format. http://www.latterdayconservative.com/articles/family-home-evening-lessons-for-the-bicentennial-of-the-constitution
Use it, teach it, spread it around! We've been told often (especially the last couple LDS General Conferences) to teach our children truth; this is a great way to see that they are being taught the truth about our nation's birth.
Here's what lds.org had to say about the booklet (
Ensign
, Nov. 1987, 102–3)
Booklet Published
The Church has published for its members in the United States a special booklet explaining the divine significance of the U. S. Constitution and its principles.
The First Presidency has asked that the booklet be used as the subject of family home evening lessons by all member families in the United States.
The delegates to the Constitutional Convention in 1787 were inspired men the First Presidency said—men who produced a document that the Prophet Joseph Smith called "a glorious standard" and "a heavenly banner."
In a preface to the new booklet, the First Presidency stated the purpose of the publication:
"In commemoration of this important event, we are providing this booklet, which contains three family home evening lessons, activity ideas, and a copy of the Constitution. We encourage you to prepare and teach each lesson prayerfully so that family members may feel the divine significance of the Constitution in their minds and hearts."
Some 1.3 million copies of the booklet have been printed and are available to congregations throughout the United States. Local leaders may order copies through the Salt Lake Distribution Center.
TV Special
"America, the Dream Goes On," was the title of a one-hour variety special spotlighting the U. S. Constitution. The show was produced by Church-owned Bonneville Media Communications.
The television special featured singing by the Tabernacle Choir and Marie Osmond. LDS actor Gordon Jump portrayed Benjamin Franklin. Another prominent actor, Harry Morgan, was host and narrator. The show was televised nationally in September (1987)."
* * * * * * *
Chicken Nachos
6 servings
1 can cheddar cheese soup (or make 1 cup of white sauce and stir in ½ c. cheese)
1/2 c. salsa
1 c. cooked chicken, diced (I use my frozen or canned chicken)
1 10 oz bag tortilla chips
chopped tomato, optional
sliced olives
On low, heat together soup, salsa, and chicken. Serve over chips; top with tomato and olives.