If you've never had a Tres Leches cake, you're in for a treat! It's very moist, with a Dulce de Leche flavor throughout. It's soaked with a mixture of 'three milks'- whole milk, evaporated milk, and cream, normally. I tend to use whatever's on hand, though. If you don't have cream, replace with an equal amount of evaporated milk. You can even whip evaporated milk, if it's very cold. 30 minutes in the freezer usually does the trick.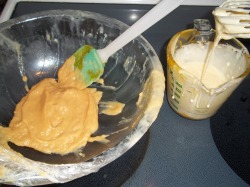 This is how you get the Dulce de Leche flavor- caramelize a can of sweetened condensed milk. It takes two hours if you let the unopened can boil, ALWAYS completely covered by water (or it could explode). Or if you open up the can and pour it in a bowl, it takes 7-15 minutes in the microwave. It really boils up, though, so use the biggest microwave-safe bowl you own! And cover it with plastic wrap. The condensed milk on the left is caramelized; the condensed milk on the right is what it looks like beforehand.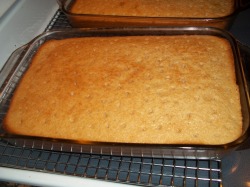 The baked cake, a sturdy hot-milk sponge cake. Let it cool for ten minutes, then poke holes all over, using a skewer or similar. (My 'skewer' is the bottom of an instant-read thermometer.)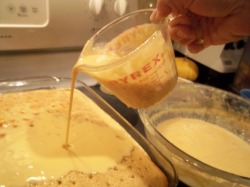 While the cake is still hot, but the 'milks' mixture is cool-ish, pour all over the cake. It will start soaking in. Refrigerate for at least 3 hours, to let the liquid totally soak in and start to set up a bit.
You know how food blogs make it look like everything is always perfect?


Well...
a doubled recipe + the same size bowl = scrubbing!
For an easy-to print version, click on one of these, below.

Tres Leches Cake recipe
, or Gluten-free, Dairy-free, Egg-free version
here
.
To get the milk mixture to soak in properly, the cake should be hot and the milks room temperature: make the milk mixture first so it can cool during cake baking time. This was modified from the Cook's Country recipe. I live at 3500 ft. elevation, and their version kept falling in the center. If you live around sea level, you might need to increase the sugar back up to 2 cups, and the baking powder to 2 tsp.


Tres Leches cake
Milk Mixture
:
1 (14 oz) can sweetened condensed milk (or use the powdered-milk version)
1 (12 oz) can evaporated milk
1 c. heavy cream (sometimes I just add 1 c. more evap. milk instead)
1 tsp. vanilla
Caramelize the sweetened condensed milk by either boiling the can (
covered at ALL TIMES by water)
for two hours OR in the microwave: pour into a large microwave-safe bowl, cover with plastic wrap, and microwave for 7-15 minutes, until slightly darkened and thickened. Stir every couple minutes, especially at the end. This takes 7 ½ minutes in my microwave. If it looks a little burned, it's still OK. Stir in about half of the evaporated milk, then set aside 3 Tbsp. for the top of the cake. Whisk in the remaining evaporated milk, cream, and vanilla. Set aside.
Cake
:
½ c. unsalted butter (if using regular butter, reduce salt by ¼ tsp.)
1 c. milk
4 large eggs, room temperature
1 ¾ c. sugar
2 tsp. vanilla
2 c. flour
1 ½ tsp. baking powder
1 tsp. salt
1/2 tsp. cinnamon, optional (I prefer the cake without)
Preheat oven to 350 degrees. Heat together the butter and milk until the butter melts; set aside. Beat the eggs for about 30 seconds, then slowly add the sugar while beating. Beat on med-high for 5-7 minutes, until they become very thick and glossy. Mix in vanilla and hot milk/butter. Add flour, baking powder, and salt (I dump them on in that order, then mix them with my fingers a bit before beating them into the batter.) Pour into a greased and floured 9x13 pan. Bake for about 30 minutes, until cake tests done with a toothpick. Let sit on a cooling rack for 10 minutes. Poke holes every half inch all over the cake with a skewer; pour milk mixture over top. Let sit for 15 minutes, then refrigerate for at least 3 hours and up to 24. Frost right before serving.
Frosting
:
1 c. whipping cream
3 Tbsp. reserved cooked sweetened condensed milk
1 Tbsp. sugar
1 tsp. vanilla
Beat all together until whipped and thick enough to spread.