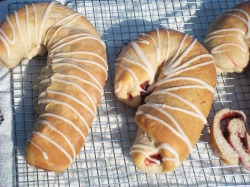 This one doesn't taste like a candy cane- though you could make it so that it does!
I just noticed that in my 'dinner rolls' post there were no instructions for making that candy cane bread. So here they are. Use the same technique to make cinnamon rolls, only those need sliced at the end of making the roll.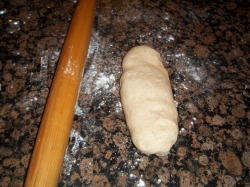 The simplest way I've found to roll a rectangle is to give the shape a head-start before rolling it out. Pat or stretch it into an oblong shape.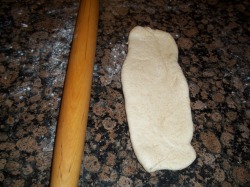 Roll it out to its full finished length. In this case, I have a pound of dough that I want to be about 8x14, so it's now rolled to be 14" long.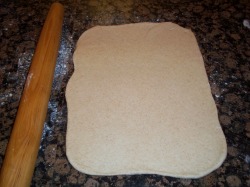 Then work on getting it the right width. Eight inches is the width of my thumb to pinky, when I stretch my hand. It doesn't have to be exact when you roll these things out; a hand width is a great measuring tool!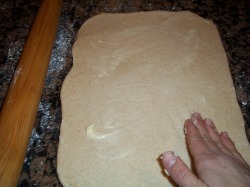 Spread soft butter on it, using a utensil or your hand. If your butter is cold and hard, your hand warms it up in a hurry. The butter prevents the dough from sticking to itself, which leaves your finished spiral open (great for letting frosting ooze into if you're making cinnamon rolls!). This means you DON'T want to spread the butter clear to the edge; stay about an inch or two away from one long edge.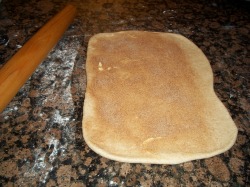 Sprinkle with cinnamon and sugar, if that's the filling you want. I 'eyeball' this kind of thing, but this was about 1- 1 1/2 tsp. cinnamon and 2-3 Tbsp. sugar. Again, stay an inch away from one long edge.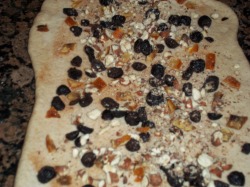 You can add whatever you want as filling- this one has the cinnamon and sugar, but then also has raisins, chopped toasted hazelnuts, and some chopped candied orange peel.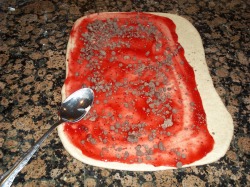 This flavor was the most popular with everyone who tried it this year- raspberry filling, sprinkled with little chocolate chunks, or chocolate chips. I get the raspberry filling from the bakery at a local grocery store; it's cheaper than I can make it, plus it doesn't go runny when heated, like raspberry jam does. Raspberry jam does have better flavor, however.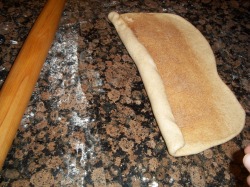 Start rolling the dough, starting with the long side opposite the unbuttered one.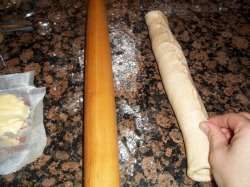 This is when you'll be glad you remembered to keep the butter away from the edge. Pinch the edge to seal.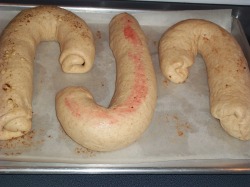 Curve the roll into a candy cane shape and put it pinched-side down on a cookie sheet. Butter it or use parchment paper. When I have different flavors on the same cookie sheet, I sprinkle or spread some of the filling on top, too, so it's easy to tell them apart. Let rise until nearly doubled, 45-90 minutes, depending on the temperature of your kitchen, and bake at 350- 375 degrees F about 20-25 minutes, or until well browned on bottom, and a little browned on top. It will continue to cook outside the oven for the next 15-20 minutes. When they're cool. Drizzle with icing, chocolate syrup, melted chocolate or white chocolate, or melted jam, and sprinkle with some nuts, cinnamon, or chocolate chips if you like.