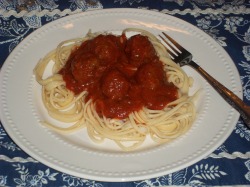 Mmm...meatballs!
This quote was recently brought to my attention; it's from some training that our General Relief Society President recently gave. It is motivating and assuring at the same time. I am grateful for wise and loving leaders, as well as the Spirit, to guide us. I know they teach truth.

Below it is a very adaptable recipe for meatballs/meatloaf.

-Rhonda



"I have a sense and a feeling as we have watched some of these disasters in the world, that this is a time for us to learn and prepare from these experiences. The preparation happens in our own homes. There are not enough tents in the world to furnish every person with a tent unless the members of the church have a tent in their own homes...a simple thing like that. And then the storehouse is pressed down, heaped over and running over in our own homes. Some of you have student apartments, how prepared are you? If an earthquake or an economic disaster happened, would you have enough water to drink for 24 hours? Would you be able to get by until help could come to you? Those are the kind of the things we need to be thinking about in our day and time, the Lord expects us to do our little part and then He can bring on the miracles and then we don't need to fear. I bear you my testimony that the gospel of Jesus Christ is true, and that these principles will strengthen us individually, and as a family, and as a people, and as a church. As we listen to prophets of God we will be okay. We don't need to worry about being alive in this scary time. The world has had scary times before and the Lord has always taken care of His people who have been faithful. "

– Julie B. Beck

see herefor her whole video clip, then click on Training Video: Self-Reliance


Meatballs and meatloaf are essentially the same food; only the size differs. Burgers or patties can be the same recipe, too. In the simplest version, you simply salt and season meat, then form and cook it. To end up with tender, juicy results, you either use higher-fat meat, or use something to help hold the moisture in. Many recipes call for crushed crackers or dry breadcrumbs, but the most tender results come from making a panade, which is a bread-and-milk paste. You can also use, in the same amount as the panade, mashed or grated potato, cooked rice, leftover cooked oatmeal (unsweetened!) or other hot cereal for this. This would make the meatballs be gluten-free. Dry crumbs soak up more moisture, leaving you with a drier result. Egg is usually used as a binder, to hold the meat together. And try to not squeeze the meat very much when you're mixing it; compressed meat is tough. Other than that, use whatever flavor additions you prefer –
Onion, garlic, ground pepper, Worchestershire sauce, soy sauce, raw pork sausage, Parmesan or other cheese, parsley, rosemary, thyme, nutmeg, Liquid Smoke, bacon pieces, diced chili peppers, shredded zucchini or carrot, chopped mushrooms, bits of sundried tomatoes, chopped spinach
.
For quick, simple meals later on, m
ake a BIG batch of meatloaf, and shape it into
* a couple meatloaves
*rolled meatloaf-
pat into a rectangle on some waxed paper, spread on some filling (cheese and spinach, or whatever sounds good), roll it up with the help of the waxed paper. (Don't leave the paper inside it!)
*some meatballs
*mini meat loaves (portions to bake in muffin tins or custard cups)
*patties
Freeze on cookie sheets so they won't stick together, either before or after cooking them, then pop into freezer bags, squeeze the air out, label and freeze.
For several flavor variations, click on
Tender and Moist Meatloaf and Meatballs
.

Tender and Moist Meatballs or Meatloaf
2 slices good-quality white bread, cut in ¼" cubes (1 ½ c.)
3 Tbsp. buttermilk, thinned yogurt or sour cream- milk works but is less creamy
1 egg
1 ½ lbs. lean burger (may use pork sausage as part of this)
¾ tsp. salt
¼ tsp. pepper
¼- ½ c. Parmesan cheese
¼ c. minced fresh parsley
2 cloves garlic, minced
Combine the bread, buttermilk, and egg, or use 1/2 c. other wet starch (i.e. cooked rice, oatmeal, mashed potato), with the egg, omitting buttermilk. Mash together until it forms a paste. Add everything else and mix gently. Form into meatballs, 1- 2" in diameter. If you're cooking them right away, they'll hold together better if you first refrigerate them for an hour. To cook, pan-fry over medium heat in 1-2 Tbsp. oil, shaking the pan often to turn the meatballs. 1 ½" meatballs should be done in about 10 minutes. Add to sauce, or cool and freeze.
Another way to cook them is:
Put meatballs on a cookie sheet. Bake at 450 degrees F for 12-15 minutes, rotating the cookie sheet back-to-front halfway through. Partially cool, then freeze.
Meatloaf
:
Mix, form into a loaf, and bake for 1 hour @ 350 F. Before the last 15 minutes, brush with
Meatloaf glaze:
1/4 c. ketchup
1/4 c. brown sugar
1 Tbsp. Dijon mustard
1 tsp. cider vinegar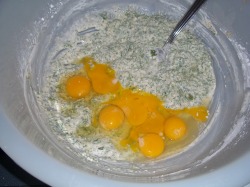 This is the panade mixed with the seasonings; eggs are mixed in before adding the meat. There are so many eggs because this is for a ten-pound batch of meatballs/loaf.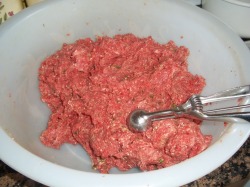 Fully mixed. A small icecream scoop (this is a #10) makes quick work of meatballs. Another way to make evenly-sized ones is to pat the meat in a square or rectangle, then cut them into evenly-sized small squares. Roll each one. One pound of meatball mixture will give you about 30 1-inch balls.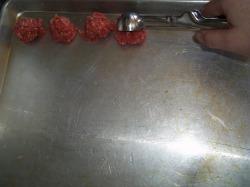 Put the meatballs on a lightly greased or sprayed cookie sheet. For the roundest meatballs, roll them between your hands. You can bake them now, and freeze them already cooked, or freeze them raw. Put the whole tray in the freezer. When they're solid, remove and put the meatballs in a freezer-safe bag or container. Squeeze out the extra air, label, and put back in the freezer.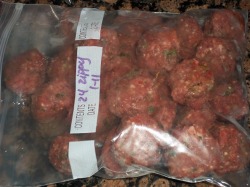 The individually-frozen meatballs packaged and ready to go in the freezer. They're best if used within a few months, but they'll be safe to eat for much longer. (I've used 2-year-old meatballs before.)