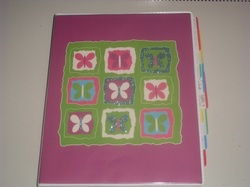 My version of the finished cookbook. What will yours look like?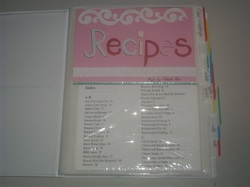 Title page: this is as close as I get to scrapbooking! The book also has a table of contents and an index.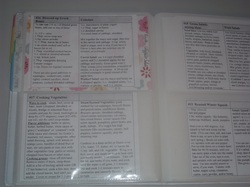 Each section has a tabbed divider stuck onto the page. I just used the tabs you find in the office supply section of a store.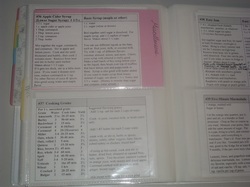 The first recipe of each new section gets a colored 'scrapbooking' paper behind it.
I've put together a cookbook of basic recipes and cooking concepts (like how to take a basic yellow cake recipe to make any number of variations). It was designed to be portable and highly useful. I hope it is! I had non-cooks, college students, and young missionaries in mind. It's typed in 3x5/4x6 card format, so you cut out the cards and slip them into the sleeves of a small photo album. This collection fits perfectly in a 72-sleeve album. If you only find bigger ones, you can use the extra spaces for blank cards to write recipe notes on, or slip a photo of the food in the sleeve next to the recipe. If you like the photo idea, I already have pictures of lots of them. Email me if you want them, rhair2473@gmail.com
Rather than give a link to the whole cookbook, I'll put an installment of it once or twice a week here on my website.
That way you have time to really look through the recipes, at a manageable pace. The first one is below:
Cakes and Frostings page 1
Cakes and Frostings page 2
Note on printing these pages: the links open to GoogleDocs. To print, select GoogleDoc's print button, don't do Control-P or you'll print the browser page and only get half the recipes.