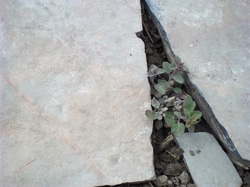 Oregano volunteer between flagstones. The garden started itself, hooray! This one needs moved since it gets tall.
Are you itching to grow a garden this year? Whether you're planning big, or starting small, here's some great information.
When you buy seeds, keep any you don't use. They will be good next year if you take good care of them- cool, dry, and dark. They will last at least a few years if you store them properly. I usually get a good four or five years out of my packets. After that, not as many of the seeds germinate. Edibles look good in your flower beds! Planting a few of those in existing beds is an easy way to get started.
For more information, click on this link,
Gardening 101
:
-choosing a garden spot
-preparing your soil
-fertilizing
-choosing seeds
-saving seeds you grow
-when to plant them
-helpful links
-an area-specific freeze chart for SLC, Utah (USDA Zone 5)
See
Gardening On A Dime
for some cheap ways to help you garden.
To get a chart showing what you can do each month in your garden, see Glover Nursery's excellent month-by-month planting guide.

Happy gardening!
-Rhonda

Flour Tortillas-
makes 12
3 c. all-purpose flour

2 tsp. baking powder

3/4 tsp. salt

about 1 cup warm water
The simple instructions: mix dry ingredients, add water and knead til smooth. Form 12 balls, let rest covered, flatten with hands, roll thin, and cook in a hot pan, flipping once. Cover with a kitchen towel.
If you want more details: Stir together flour, baking powder, and salt. Gradually stir in the water, then mix with your hands until it holds together. If it's very tough, add another teaspoon or two of water. If too sticky, add a little flour. Knead until smooth. Divide into 12 balls. Cover with plastic wrap or a damp cloth and let rest 10-15 minutes to let the gluten relax. Flatten a ball with your hands until it's about 4 inches across, then roll with a rolling pin, working from center out, until very thin and about 9 inches across. It helps to use very little flour on the counter and a little more on the top of the tortilla so the rolling pin doesn't stick. Cook over med-hi heat in an ungreased skillet. When top is covered in blisters, flip it over and cook until the other side bubbles up too. The blisters should be golden brown. Each side should take a minute or less. When each tortilla is done, put it in a plastic bag or on a plate; cover with a towel to keep them warm and moist.
If you're saving them for the next day, they stay soft but not soggy in a plastic bag with a paper napkin inside to absorb the excess moisture.
To make tortilla chips, cut into triangles and deep fry, or spray with Pam and bake at 375 degrees for about 7-10 minutes, until crisp.
Make tortilla bowls by either baking or frying, too. Baking- drape over an upside-down ovensafe bowl, spray or brush lightly with oil, bake until golden. Frying- make a few holes around the bottom of an empty 10-oz soup can, heat oil 2" deep to 375 degrees, put a tortilla on the hot oil, and immediately press down on it with the soup can. Cook about 30 seconds or until crisp. Lift out, draining off extra oil. Set on paper towels.
Simple Gluten-Free Tortillas
-makes 8
2 cups oat flour (I use whole oat grouts, and grind them into flour with my wheat mill. You can also use rolled oats and grind them in a blender)
1/4 teaspoon salt
1/2-3/4 cup warm water (using warm or hot water allows the oats to act 'glutinous', no xantham gum needed.)
Mix dry ingredients. Add water slowly and mix evenly with a fork til moistened. Gather dough into a ball, adding more water if needed. For pliable tortillas, I've found it's important for the balls to be moist(not sticky once kneaded, though). Knead well. Split into 8 sections, then form balls with each section. Cover for 10 min. You may want to cover with moist towel to keep them moist.

Shape into tortillas 7 - 8 inches diameter. Cook on hot griddle or medium-high heat frying pan(heat these first), for 1 -2 min per side. Stack on plate and cover with a dish towel. Serve warm. These will toughen quickly when reheated.

The basic recipe can also be rolled out and baked for crackers. For more details on that, go to
http://wheatdairyeggnutfree.blogspot.com/search/label/Tortillas%20and%20Crackers