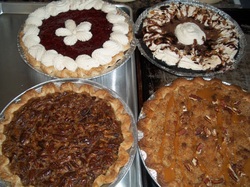 Different pies and piecrusts. The card only covers cream pie varieties, but has a few different crusts.
Did you want to see closer?

This one is chocolate-peanut butter cream pie.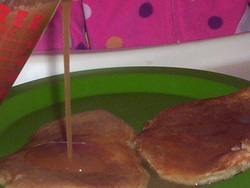 Apple Cider Syrup is YUMMY. We use the recipe to make many flavors. Our latest favorite is made using mango juice.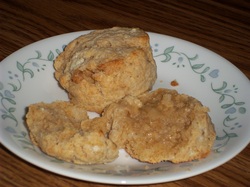 Crunchy on the outside, velvety on the inside, simple Drop Biscuits. The batch pictured uses about half whole-wheat flour.
Craggy, crisp, and hearty- use the Drop Biscuit recipe to make Drop Scones. Here, I swapped some oats for some of the flour, and stirred in chopped figs and toasted nuts.
Miscellaneous card 1
apple cider syrup, basic syrup, easy jam, cooking grains, 5-min marmalade
Miscellaneous card 2
granola, granola bars, home remedies, seasoned salt, seasoned flour, spice chart
Pies
cream pie filling, shortbread crust, meringue, crumb crust, pat-in-pan crust, traditional crust
Quick Breads card 1
drop biscuits, English scones, biscuit mix, soft breadsticks, rolled biscuits, shortcake, biscuit dough ideas