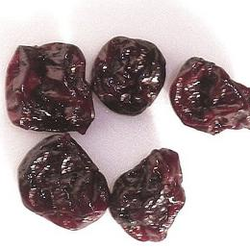 Dried tart cherries: my favorite cherry for recipes.

Photo from Nutty Guys
Next week's post will have several ideas for using dried fruit.
_____________________

Why buy, or make, dehydrated fruits? My favorite reasons are that it preserves fruit without needing electricity (as in freezing), and it stores in a smaller space when compared to canning. It also intensifies the flavors, allowing me to use it as a sweetener.

If you're buying them, how do you know what a good price is? The simplest way is to judge by serving size. One ounce of dried fruit is a serving, about equal in size to one medium fresh apple or peach. If a one-pound can of dried apples costs $5.75/lb (which it does at the Home Storage Center), that means you're paying about 35 cents per apple. If you want to figure how that compares with price per pound fresh, 25 lbs of fresh apples reduce down to about 4 lbs. 4/25 of 1 lb @$5.75= .92/lb fresh apple price.

For other fruits, a fairly good estimate is 1 lb very-dried fruit = 5 lbs fresh; most fruits are somewhere around 80% water to begin with. 1 lb moist-dried fruit = 3 lbs. fresh, figuring about 2/3 of the water has been evaporated away. This isn't exact, but is close, and is simple enough to remember and use. Dried blueberries (moist) at $ 12.30/lb are like paying $ 4.04/lb for fresh, or about $ 1.53 for a 6-oz clamshell. It costs around four dollars a pound to buy frozen blueberries, plus then I pay to run the freezer at home. Twelve bucks a pound sounds expensive, but it's about half the price of fresh around here. They're definitely worth having some on hand. Just keep them out of reach of the kids, or you won't have any left!

If you live anywhere around Salt Lake City, you can get 'returns' at Nutty Guys' warehouse for $1.50 per one-pound bag (of anything they sell). Returns are anything that didn't sell within their 6-7-month "sell by" date; they get returned to the warehouse. Returns are unpredictable, you never know what will be there on the shelf, but they make for incredible bargains. Dried fruit is considered at its peak for one year. You can extend this by keeping it sealed, dark, and cool. This is something at its best when rotated regularly.
_____________________

Here's one way to use dried tart cherries; I always get them cheapest from Nutty Guys. (Returns shelf, hooray!) I created this recipe for a bake-off at the state fair a few years ago. The ingredients sound strange together, but, boy, are they good. The balsamic vinegar accentuates the chocolate and adds brightness to the cherry. (The recipe took 1st place.) These are like a very dark, intense truffle, with bits of sweet-tart, chewy cherry. They take only five minutes to mix.

CHERRY-CHOCOLATE BLISS BITES

1/4 cup dried tart cherries, coarsely chopped
1 Tbsp balsamic vinegar
1/4 tsp almond extract
1/3 cup sweetened condensed milk
1 (4 oz) bar Ghirardelli 60% cocoa bittersweet chocolate, broken*

Place dried cherries in a small microwavable bowl; pour in balsamic vinegar and almond extract. Microwave 30 seconds to help plump the cherries; set aside.

Microwave condensed milk 45 seconds or until hot but not boiling. Add chocolate and stir until mostly smooth. Add cherry mixture. Stir until well combined.

Pour into a loaf pan or other 2 cup container, bottom lined with parchment. Chill in freezer for 15 minutes or in refrigerator for 45 minutes until set.

Cut into squares or roll into balls. This recipe can be doubled or tripled.

*Any semisweet or bittersweet chocolate (bar or chips) can be substituted. Try to get something around 60% cocoa solids. I used Ghirardelli's because that was who sponsored the contest. If you quadruple the batch, you'll use the whole can of sweetened condensed milk (1 1/3 c.) and one whole pound of chocolate.