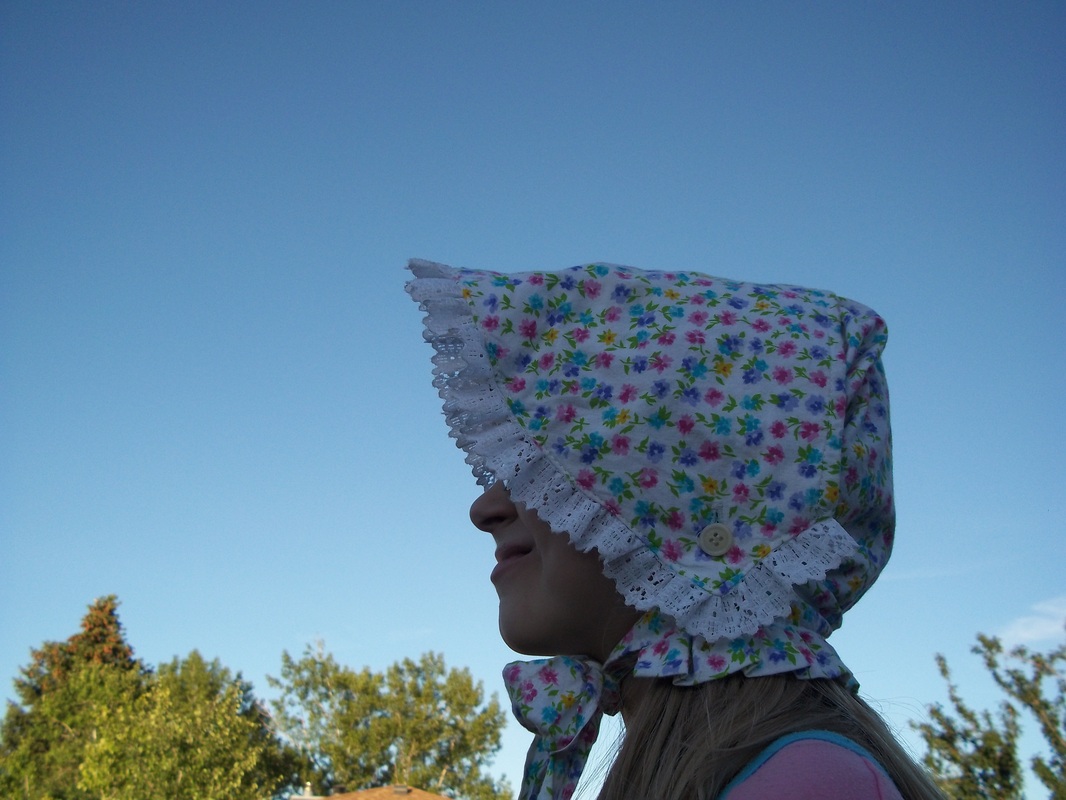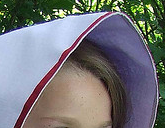 An interfaced brim holds its shape, see
here
for the whole photo, which is not mine.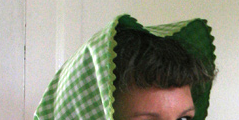 If there's no interfacing, crinoline, or something similar, the brim flops, like this. Click
here
to see this one as an apron; it's very cute!
Showtime's
almost here- our LDS stake will have the youth participate in a pioneer trek reenactment next week.
I went to a local store that sells pioneer costumes, "just to see".
One apron, one skirt, and one bonnet
totaled $60.
If don't want to pay an arm and a leg, and you're looking to make a simple bonnet, have I got a pattern for you!
I stumbled across it while looking for an easily-collapsible hat to put in my 72-hour kits.

Introducing... th
e handy-dandy, old-fashioned
Apron Bonnet Pattern
I made one for myself, but my 8-year-old daughter begged for it.
It easily adjusts to fit either one of us, as well as adjusting to give you lots of shade, or just a little.
One other thing I love about it is that you can use it as a waist apron later, so it doesn't just sit in the costume box somewhere.
Or wear it as a bonnet when you're out in the garden.
The pockets are big, too; I've heard the suggestion that they would be great for holding clothespins in, if you hang laundry on a clothesline.
This pattern has you stitch down the middle, to make two pockets, but you could leave it as one big pocket.
You need only ½ yard of fabric, two buttons, and some crinoline or stiff interfacing.
The crinoline is optional, but I love how the brim keeps its shape when you use it.
See the photos, above.
I found crinoline for about $7 per yard at both local fabric stores.
One yard is enough to line four bonnet brims.
If you can't find crinoline, you can line it with a layer or two of interfacing, or some stiff fabric, or cut a couple pieces of cardstock (or plastic) to fit.
A couple words of advice about the pattern-
the ruffle above the waistband
becomes the neck shade.
Keep that in mind when deciding how tall to make that ruffle.
The bottom curve becomes the bonnet brim.
I put gathered lace along the sides and bottom of the pocket, but not along the top of the pocket.
Just my preference.
Use any trim you like-- ribbon, ric-rac, flat lace, gathered lace, crochet trim, soutache-- or none at all.
Also, the pattern pieces' edges do not match up as intended.
Ignore "Diagram 2" and cut another of "Diagram 1" for the pocket, except make it only 9" tall, measuring from the bottom.
If you want to see other people's comments on the pattern, see here.


Have fun!