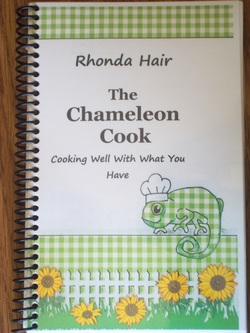 Just printed this week, a cookbook that may become
your
go-to source for your cooking:
The Chameleon Cook:
Cooking Well With What You Have

140 pages of adaptable core recipes, frugal cooking information, rules-of-thumb, and guidelines for cooking everyday food with what you have on hand, including how to adapt to cooking without eggs, dairy, sugar (honey instead), or wheat. It also includes an index.
At 5½"x 8½" it's intended to be easy to fit in any size kitchen. Any level of cook will find it useful, from beginners to old-hat. I recommend it especially for college students, missionaries, newlyweds, or anyone wanting to expand their understanding of how to make a recipe work.

It has a laminated cover for durability, full-color cardstock chapter dividers with photos, and your choice of plastic coil binding or plastic comb binding.

Cost is $14 if purchased through me, $14.95 if bought retail. Copies may be purchased at John and Jennie's Bosch Kitchen Center, Not Just Copies, and the Sandy Bosch Store. You can order by calling (801) 541-6999, leaving a comment on this page, or emailing me at singyourwayhome@comcast.net
Chapters include:
-Introduction and Tips
-Appetizers (Snacks!) and Beverages,
-Soups and Salads
-Vegetables and Side Dishes
-Main Dishes
-Breads
-Desserts
-Cookies and Candy
-This & That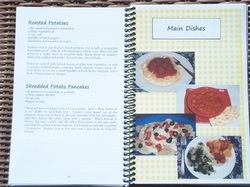 Categories in Main Dishes include
-Beans (including cooking them from scratch, and how much is in a can)
-Eggs
-super-adaptable Red Sauce and White Sauce
(make your own Cream of Mushroom Soup and more)
-Meat, including how to make a cheap cut tender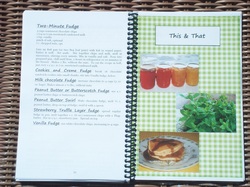 Sections in This & That:
-Cooking Grains
-Miscellaneous
-Dairy Foods
-Dehydrated Foods (both making and using them in your regular recipes)
-Home Remedies
-Homemade Cleaners
-Seasonings, Jam, and Syrups


Some recipes in the sections include:
-Croutons
-Edible Playdough
-Fruit and Nut Energy Bars
-Granola, Granola Bars
-Homemade "Honey Bunches and Oats"
-Brown Bag Popcorn
-Cream Cheese Spreads
-Making simple fresh cheese and cottage cheese
-Snow Ice Cream
-Sweetened Condensed Milk (two versions- one using powdered milk, one using evaporated milk, cream, or half-and-half)
-Culturing Yogurt
-Apple Cider Syrup (Lower Sugar Syrup)
-Five-Minute Marmalade and a dozen ways to use it
-Honey Mustard
-Honeybutter
-Quick Strawberry Jam
-Seasoned Flour
-Seasoned Salt
-Simple Syrup and variations
-Home Remedies- Coughs, Insect Stings, Lowering Fever, Natural Deodorant
-Homemade Cleaners- Floor Cleaner, Furniture Polish, Laundry Soap, Liquid Soap, Carpet Spot Cleaner, Stain Remover, using vinegar, Window Cleaner.
If you need one (or more) shipped, I charge only the actual shipping cost plus the price of a padded envelope.

Call or e-mail today!

-Rhonda