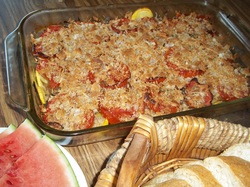 Do you have summer squash and tomatoes coming out your ears? This is a delicious way to use quite a bit of that summertime produce- zucchini and yellow squash baked with caramelized onions and sweet roasted tomatoes. You can use 2 lbs of any summer squash, but the green and yellow here are pretty together.

Normally a dish like this would be soupy, since these high-water-content vegetables lose moisture as they cook. These are salted while raw; the salt draws out water. This makes a big difference.

Two 6-8" long zucchini equal about one pound.

Vegetable Gratin
1 lb. zucchini, sliced 1/4" thick
1 lb. yellow summer squash, sliced 1/4" thick
2 tsp. salt
1 1/2 lbs. ripe tomatoes (3-4 large ones), sliced 1/4" thick
2 medium onions, halved then sliced thin pole to pole
3/4 tsp. black pepper
5 Tbsp. olive oil
2 cloves garlic, minced (or 1/2 tsp. garlic powder)
1 Tbsp. fresh thyme leaves (1 tsp. dried)
1/4 c. chopped fresh basil

Toss zucchini with 1 tsp. of the salt; put them in a colander over a bowl. Let stand 45 minutes or until at least 3 Tbsp. liquid drains off. Put the tomato slices on paper towels or a dish towel, sprinkle with 1/2 tsp. salt; let stand for 30 minutes. Put another towel or paper towels on top of the tomatoes to press them dry. Pat squash dry with a dish towel or paper towel. While the vegetables are all draining, brush a 9x13 pan with 1 Tbsp. of the olive oil, set aside. Heat oven to 400 degrees. Heat 1 Tbsp. oil in a 12" skillet over medium heat. Add onions, 1/2 tsp. salt, 1/4 tsp. pepper. Cook, stirring once in a while, until onions are caramelized: soft and dark golden, 20-25 minutes. Set aside.

In a small bowl, combine garlic, the remaining 3 Tbsp. oil, 1/2 tsp. pepper, and thyme. When the zucchini is drained and patted dry, toss the squash with half of the oil mixture. Spread the squash along the bottom of the 9x13 pan. Arrange onions on top, then put tomatoes on in a single layer, overlapping if needed. Drizzle the rest of the garlic oil on top. Bake about 40-45 minutes, until tomatoes start to brown on the edges. Increase oven to 450 degrees. Make the topping, below, and bake 10 minutes or until topping is lightly browned. Sprinkle with basil and let sit 10 minutes before serving.

Topping:
1 Tbsp. olive oil
1 slice white bread, shredded or crumbled (food processor or blender works well)
2 oz. shredded Parmesan cheese (1 cup)
2 shallots, minced (1/4 c.- or use a mild onion)

Stir together.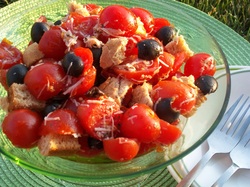 Cherry Tomato Salad

4 cups halved cherry tomatoes
1/2 tsp. salt
1 Tbsp. olive oil
1-3 Tbsp. balsamic or other vinegar
2 garlic cloves, minced (or 1/2 tsp. garlic powder)
1 Tbsp. chopped or torn fresh basil (or 1/2 tsp. dried)
1/2 c. shredded Asiago or Parmesan (or use a cubed mild cheese, up to 8 oz)
2 slices good-quality bread, cubed (optional to use, and best if stale)
1/2 c. halved olives

Sprinkle tomatoes with salt and put them in a colander or on some paper towels. Let sit 30 minutes to drain juices. Pour them off (great added to salad dressing, soup, or cornbread batter). Toss all ingredients together, add salt and pepper to taste.
To meld flavors and soften the bread, it's best if it sits a couple hours in the fridge; or serve immediately.