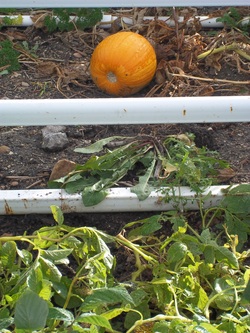 When else can you get another vegetable for under twenty cents a pound?


You may even get them for free if you ask a farmer, or grocer, right AFTER Halloween. I was able to glean from two different farm fields last year!

I saw an interesting thing, as I was looking for pumpkins in good condition: one man was walking around with a hatchet and a bucket. He wasn't after the pumpkins; he wanted the seeds! It didn't matter if the pumpkin was shriveled or damaged; each pumpkin was chopped open and the seeds scooped out.
Most people look at pumpkins as merely decorations. They are great for giving your yard or home that homey, autumn feel. But one cup of pumpkin (only 49 calories!) is also high in fiber (3 g) and beta-carotene (Vitamin A- 2650 IU), plus calcium (37mg), potassium (564mg), magnesium (22mg), along with smaller amounts of iron, zinc, selenium, Vitamin C, Niacin, folic acid, and Vitamin E. See University of Illinois Extension or Nutritiondata . That's just the pumpkin. The seeds also provide exceptional nutrition.

If you'd like to know how to turn that festive decoration into a form you can eat, it's simple. Basically, you clean it, cook it, and mash or puree it. I much prefer the flavor of fresh pumpkin to that from a can. It can be frozen for later use, dried and powdered, pressure-canned in chunks, or stored whole in a cool (55-70 degrees), dark, dry location. They can last the whole winter stored whole. I stored a Hubbard squash last November; I finally cut into it in July this summer. It was perfect.

For more detailed instructions for cooking it, along with a
few
dozen
recipes, see
The Great Pumpkin recipe book
. To get cooking instructions and just a few of my favorite recipes-
Pumpkin Chili, Pumpkin-Pecan Yeast Bread, Pumpkin Muffins, and Pumpkin Pie-
see the
Pumpkin Class Handout
.