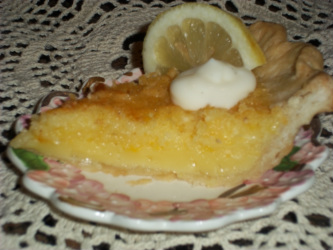 This is a smooth, lemony, egg-based baked pie. Use a fresh lemon for the best flavor, one is all you'll need. If you only have bottled lemon juice, be sure to use the lemon zest, or about 1 tsp. lemon extract, or 4-6 drops lemon oil. The zest gives more flavor than the juice does.

Lemon Chess Pie
5 eggs
1 3/4 c. sugar
3 Tbsp. fresh lemon juice
1 Tbsp. lemon zest
2 Tbsp. cornmeal
1/4 tsp. salt
1/2 c. (1 stick) melted butter

Preheat oven to 450 degrees. Beat the eggs in a medium bowl, then add sugar, juice, zest, cornmeal, salt, and butter. Pour into a parbaked crust, put on the lowest rack so the heat will set the crust. Immediately reduce temperature to 325 or 350 degrees. Bake for 50-60 minutes, until all but about 1" of the center is set. Jiggle the pie to check that- it will jiggle like Jello instead of like water. (If 1" of the center still seems like liquid, that's OK; the center will continue to cook as it cools.) Cool on a rack. Store covered in the fridge.



Pat-in-Pan Crust
Looks and tastes just like a rolled-out crust, but is much easier, and does not get tough from handling it
.
1 stick butter (1/2 c.) softened but cool
2 oz. cream cheese, softened but cool
1 ¼ c. flour
2 Tbsp. sugar
¼ tsp. salt
Coat a 9" pie pan with cooking spray. Beat together butter and cream cheese until very smooth. Add all else, beat 20-40 seconds more until it looks like coarse cornmeal. Scrape sides of bowl, beat until large clumps form. Set aside 3 Tbsp of dough for top edge. Evenly press remaining dough onto bottom and up sides of the pie pan. On a floured surface, roll each Tbsp reserved dough into a 9" rope, put around top edge of pan; flute edge. Wrap and chill 1 hour, preheat oven to 325 degrees. Roll out and prick with a fork; bake until golden, 35-40 minutes. Cool on rack.
To "parbake" this crust, you're going to "par"tly "bake" it: cook 20-25 minutes, until the crust looks dry but not browned. Pour the filling in while crust is still warm.
If you're making multiples of this, it's easiest to use an upright mixer and wire beaters. You'll use about two cups of the dough, loosely packed, for each crust.
This recipe is from this week's
Custard Pies and Pie Crust class
- the two-page handout is on the link. It includes recipes for several custard pies: Pumpkin Pie, Pecan Pie, Poor Man's Pecan Pie (Pecan Pie recipe, but using toasted rolled oats INSTEAD of pecans), Rhubarb Custard Pie, and Cranberry Pie.