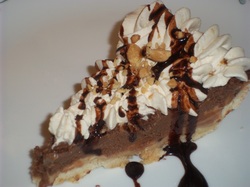 There are lots of recipes here for pies, crusts, and toppers!





Check out the following links, from my main page and blog posts. You'll see repeated recipes throughout them; they're mostly handouts from different pie classes I've taught.


Crash Course In Pies
- basic Vanilla Cream Pie and variations: Banana Cream, Banana Caramel, Butterscotch, Coconut Cream, Chocolate Cream, Chocolate Peanut Butter, Cookies and Cream, Eggnog, Peanut Butter, and Strawberries-and-Cream pies! Also has different options for crusts and toppers (meringue or no-run whipped cream)
Custard Pies
: Recipes from
The Chameleon Cook
: Pumpkin Pie, Pecan Pie, Cranberry Pie, Rhubarb Pie, Date-Pecan Pie, and Lemon Chess Pie (blog post on
Lemon Chess Pie here
).

Memorable Holiday Pies
- easy pat-in-the-pan crust that is never tough, the world's BEST raspberry chiffon pie, pumpkin pie, cream pies with a few variations.
Pumpkin class handout
- includes my mom's pumpkin pie recipe, along with other non-pie recipes.
Starter
Cookbook
- cream pies and variations, crusts, meringue, no-run whipped cream, and tips.
The Great Pumpkin Cookbook
- includes Praline-Pumpkin Pie, Pumpkin-Apple Pie, Pumpkin Chiffon Pie, Pumpkin Streusel Pie, Pumpkin Cookie Pie (sugar cookie crust, pumpkin-icecream filling), Gobble-up Pumpkin Pie (uses a can of sweetened condensed milk), Impossible Pumpkin Pie (makes its own crust), Mom's Pumpkin Pie, Honey-Pumpkin Pie, Raisin-Pumpkin, Tofu-Pumpkin (egg and dairy free), and Molasses-Pumpkin Pie! Also has a few pumpkin cheesecake recipes, along with dozens of other recipes.