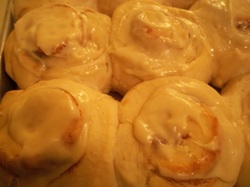 Do you ever wish you could have cinnamon rolls in the morning without having to get up two hours early? Do you ever wish you could have dinner rolls ready to bake when you walk in the door from church or work?

With this recipe, you can. No pop-open refrigerated dough cans required. You get fresh, hot, delicious bread with all normal, easy-to-pronounce ingredients. (Do I sense a Christmas tradition in the making?)

The technique might work with other bread/roll recipes; I haven't experimented to find out yet. (Please let me know if you do!)


The recipe is from a 1987 Fleishman Yeast bread recipe booklet and tweaked only slightly. One chapter in the booklet was called "Rising On Ice"; hence the name, below. The dinner roll dough is soft, tender, springy, with a tender crumb. You can make any shape of rolls with it, including cinnamon rolls! If you make dinner rolls, remember that you can sprinkle them with herbs, sesame seeds, poppyseed, or sea salt. These could even be made into can't-be-beat hamburger buns! (Roll 1/2" thick, cut 3-4" circles with a biscuit cutter or canning ring.)
This makes about 2 1/2 dozen rolls, or one 14x18" baking sheet full of cinnamon rolls.
Rising On Ice Dinner Rolls
1 cup milk
2/3 c. water
1/4 c. (1/2 stick) butter
6-7 cups flour
1/2 c. sugar
1 1/2 tsp. salt
2 packages active dry yeast (or 3-4 tsp. instant yeast)
2 eggs, at room temperature
Combine milk, water, and butter; heat to 120-130 degrees (butter doesn't need to melt). Meanwhile, put 2 cups of the flour, the sugar, salt, and yeast in a large bowl. Add the warm milk mixture, then beat two minutes on high speed. Add eggs and 3/4 c. more flour; beat two more minutes on high. Add more flour to make a fairly stiff dough; knead 8-10 minutes, until smooth. Cover and let rest for 20 minutes. Punch down, shape into whatever shape rolls you want. Place them on a greased baking sheet. Brush them with oil (this helps them not dry out in the fridge, as well as to not let the plastic stick), then cover them loosely with plastic wrap. Refrigerate for 2-24 hours. When ready to bake, pull them out of the fridge, carefully uncover them, and let them sit at room temperature while the oven heats. Bake at 375 degrees for 15-20 minutes or until done.
For instructions to make cinnamon rolls, see the
Making Bread
page and scroll about halfway down.