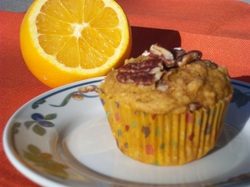 Pumpkin-Orange Muffins- made using essential oils!

Recipe is at the bottom of this page.
My friend's sister sells essential oils, and has had a lot of people ask how much to use if they want to cook with them. She asked if I would play around with the oils if she provided them, and come up with some guidelines and recipes. Here's the start of that. As I add more recipes, I'll add them to an indexed pdf so they're easy to access. (More on that another time.)
First of all, please make sure that you're using pure oils that don't have any chemical residues or other nasty things. In other words, use Grade A/Therapeutic Grade oils, or Grade B/Food Grade oils. The label should tell you what grade it is. There are four grades, see
here
for more on this. Several sources say not to ever ingest essential oils, see more about why I disagree with that
here
.
Second of all, realize this is not going to be an exact science. Several things will affect how much oil to use in a recipe:
-What brand you use- some are better quality than others
-How old the oil is (they lose potency over time; these are strongest when under a year old)
-What the growing season was like that year for the plants
-How big your bottle is- see below for an explanation
-And how strong of a flavor YOU prefer!
I've discovered that your bottle size makes a huge difference on the size of the drops that come out. The 15mL bottles I have require only 16 drops of oil to equal 1/8 teaspoon. The dram-sized bottles (the kind with a stopper and a little hole in the middle of it) give out teeny-tiny drops- it takes about 64 of these drops to fill 1/8 teaspoon! (Yes, I did crazy things like measure all of this....) If you're going to cook with your oils, I actually recommend putting your cooking-herb oils in this smaller size; so little is needed that the smaller drops are perfect. Oils in this category would include oregano, thyme, coriander, rosemary, lavender, and marjoram. To get a drop out, tip the bottle over the food you're adding it to, and gently rap the bottom of the bottle once. Watch closely; it's hard to see when it comes out. A little goes a LONG way! The oils I've been using are from doTERRA.
Below are the general guidelines I've learned.

When your recipe calls for herbs:
1/2 tsp. dried herb leaves = 1 1/2 tsp. (1/2 Tbsp.) fresh herb = 1/4 tsp. powdered herb = 1 tiny drop essential oil
1/2 tsp. powdered herb leaves = 1 tsp. dried herb leaves = 1 Tbsp. fresh herbs= 2 tiny drops essential oil
1 tsp. powdered herb = 2 tsp. dried herb leaves = 2 Tbsp. fresh herbs = 2 tiny drops, or 1 regular-sized drop

Using citrus oils:
1 tsp. lemon extract = 1/8 tsp. lemon essential oil = 16 drops
1 Tbsp. lemon zest = 1/16 tsp. lemon essential oil = 8 drops

So if your favorite spaghetti recipe calls for 2 tsp. powdered oregano, you can use one regular-sized drop of essential oil instead, or 4 tiny drops.

The herb ratios also seem to hold true for spices like cinnamon and ginger. I especially love the flavor of cinnamon oil- it's a pure, clean flavor reminiscent of red hots. I put two tiny drops in a half-pint of cream, along with 2 Tbsp. sugar and a bit of vanilla, before whipping it- Cinnamon Whipped Cream- delicious! We had it on pumpkin pie, for breakfast. The pumpkin pie itself also used essential oils for its spices.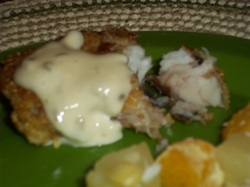 Pan-Fried Fish

For 1 lb. boneless fish (I used tilapia):
Cut the fish into serving-sized chunks. if there are any thin ends, tuck them under. Pat dry with a paper towel, prinkle lightly with salt and pepper.

Breading: Combine on a plate:
2/3 c. flour, breadcrumbs, cornmeal, crushed potato chips, potato flakes, or whatever! (I used 1/3 c. each flour and cornmeal)
1/2 tsp. salt
1/4 tsp. pepper

Dipping mixture: combine in a wide dish:
1 egg, beaten
2 Tbsp. buttermilk, yogurt, or mayonnaise
1 Tbsp. mustard (either Dijon or regular is great)
1/4 tsp. garlic powder, or 1 tiny drop garlic essential oil
1/8 tsp. cayenne pepper
1/2 tsp. thyme, or 2 tiny drops thyme oil- I used rosemary instead
4 regular drops any citrus oil, optional (lemon, lime, orange, or grapefruit)

Heat a 12" skillet over medium-high heat. Add oil; at least 2 Tbsp. or up to 1/2 " deep, depending on how "fried" you want this. While it's heating, drop a piece of fish into the dipping mixture; turn to coat. Lift out, then put it in the breading. Flip it over with a fork to coat it, then put it in the hot oil. Repeat with other pieces until the pan is fairly full, but pieces are not crowded or touching. Fry 2-4 minutes, until bottom is dark golden brown. Flip, and cook other side until the thickest piece is opaque inside and starts to flake when poked open. Serve hot, with tartar sauce or lemon wedges.

I always have leftover breading and dipping mixture. Instead of throwing it out, I turn it into Hushpuppies: To however much breading is left, add that much fresh flour (breading is very salty!) If you now have a cup of this dry mixture, add 1 1/2 tsp. baking powder. If you have less or more flour/breading, use less or more baking powder! Add whatever dipping mixture is left. Add water if you need, to be able to get a soft dough that more or less holds its shape. Drop by spoonfuls into the hot oil. Fry until golden ( a couple minutes), turning them over once.



Pumpkin-Orange Muffins- makes 12
2 c. flour (I used whole wheat)
1/2 tsp. baking soda
1 1/2 tsp. baking powder
1/2 tsp. salt
1 tsp. cinnamon, or 1 regular-sized drop cinnamon essential oil
3/4 c. sugar (or 1/2 c. honey)
1 c. buttermilk or sour milk
8-16 drops orange essential oil (1/16 to 1/8 tsp.)- this is distinctly orange-flavored!
1 c. pumpkin puree
1 beaten egg
1/4 c. oil or melted butter
1/2 c. chopped pecans, optional

Preheat oven to 375 degrees. Grease 12 muffin cups, or line them with cupcake papers. Mix together the dry ingredients: flour, baking soda, baking powder, salt, cinnamon, and sugar. Add the wet ingredients all at once: buttermilk, orange oil, pumpkin, egg, and oil. Stir just until combined. Spoon into muffin tins, then sprinkle with the nuts. Bake about 16-18 minutes, or until lightly golden and the top of a muffin springs back when touched.