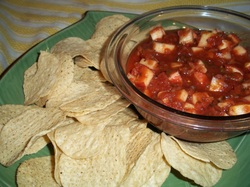 I've seen mango salsa before, or peach salsa, but it had never occured to me to try adding fruit to regular salsa.

Try it, you'll like it!
Pico de Gallo

16 oz. jar salsa (mild, medium, hot, whatever you prefer)
1 large apple, diced
4 drops lime essential oil OR use the juice and zest of one fresh lime
Stir together, and use as any salsa.
Peach or mango can be used in place of the apple. Other fruits could be good, too- strawberry, raspberry, pear, ...
The idea came from a recipe for
Tangy Lemon Coconut Salad
. The recipe was a tad too complicated for dinner that night, plus I had no fresh tomatoes. I pulled out a jar of salsa, added the recipe ingredients that weren't already in the salsa, and put it with the salad. It was amazing!