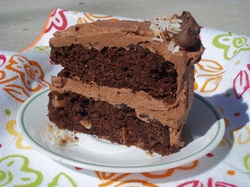 Apparently this was a popular cake for April Fools' Day back in the 1960's. It tastes nothing like sauerkraut, and any bits you find in the cake resemble coconut. (The white bits you see in this photo are hazelnuts I threw in.) The sauerkraut gives moisture to the cake, just like adding shredded carrots or zucchini would. My mom is already planning to make this with just plain shredded cooked cabbage.

I haven't tried the frosting recipe that comes with it; I was out of mayonnaise, and made a whipped ganache instead (8 oz. chocolate melted into 8 oz. whipping cream, cool to room temperature and whip it). I imagine the mayo version tastes quite a lot like the chocolate-sour cream frosting I've had before- a little tangy and really delicious, only this recipe also calls for coconut and pecans.... mmm.


Chocolate Sauerkraut Cake


12 tablespoons (1 1/2 sticks) unsalted butter, softened
1 1/2 cups sugar
2 cups all-purpose flour
3/4 cup Dutch-processed cocoa powder
1 teaspoon baking powder
1 teaspoon baking soda
1/4 teaspoon salt
1 cup water
3 large eggs, room temperature
1 teaspoon vanilla extract
1 1/2 cups sauerkraut, rinsed and drained
1/2 cup chopped pecans or other nuts

Preheat oven to 350 degrees. Grease and flour three 9" cake pans. Cream together the butter and sugar until fluffy. In a separate bowl, combine the flour, cocoa powder, baking powder, baking soda, and salt. Mix half of this into the sugar mixture. Add 3/4 c. of the water, beat in, then beat in the rest of the dry ingredients. Beat in the eggs and vanilla until well combined. Fold in the sauerkraut and pecans, using a spoon or spatula. Bake about 25-35 minutes, until a toothpick inserted in the center comes out clean. Cool in the pans for 10 minutes, then remove from pans and cool completely on a rack.

Frosting

2 cups semisweet chocolate chips, melted (one 11-12 oz. bag)
2/3 cup mayonnaise
2/3 cup sweetened, shredded coconut
2/3 cup pecans, chopped

Whisk together the melted chocolate and the mayonnaise. Set aside 2 cups of this. Add 1/3 cup each of coconut and pecans to the remaining frosting to make the filling.

Spread half of the filling on one cake layer, top with another cake layer, spread with the other half of filling, and put the last layer on top. Frost the whole cake with the reserved 2 cups of frosting. Press the last 1/3 cup each of coconut and pecans into the sides of the cake. Refrigerate until time to serve.

See here for another way to decorate and serve this cake!