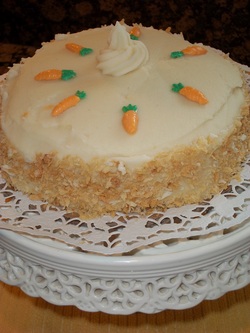 So much fun I wanted to share it...

On a previous April Fools' Day we had a main dish that looked like dessert- this "carrot cake" is really meatloaf and mashed potatoes.....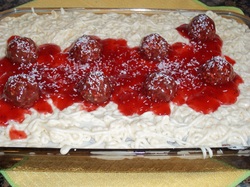 And a dessert that looked like a main dish.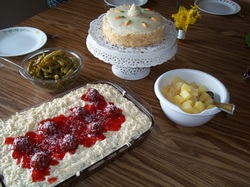 So here was the whole meal.
The actual cake, the spaghetti and meatballs, was made using the
Sauerkraut Cake recipe
.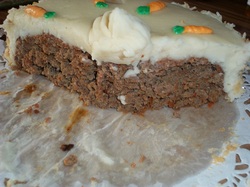 Ta-da!
The original idea came from someone's two-person 'cake', made using two giant hamburger patties-- each about a half pound-- as the cake layers, frosted the same as below.
To make this one, started with about 1 to 1 1/2 lbs of burger and make it into
meatloaf
, pat it into a 7" circle with vertical sides, and bake it in an 8x8 square baking dish. When it is done, toast about 1/2 cup bread crumbs in the still-hot oven (I used panko because that's what was in the cupboard); about five minutes is all it will take. After the mealoaf has rested about ten minutes to firm up, cover it using about 3 cups of mashed potatoes. (I made them using potato flakes.) To pipe the carrots, soften about 2 oz. of plain cream cheese; tint half orange, and half green. Put each color in a ziptop baggie and snip a small corner off; squeeze a carrot shape first, then make 2-4 small green lines for each carrot top. I used a pastry tip for the swirl on top (filled JUST the decorating tip with potatoes, and shoved my clean thumb into it); you can skip that part, use a bag and tip, or snip an 'M' shape in the corner of a ziptop baggie to pipe out of.
To coat the sides, press a handful of crumbs against the side, repeat all the way around. Serve warm, and refrigerate any leftovers, of course!
To make the 'spaghetti casserole', start by baking any cake in a square or rectangular pan. My family's big enough we used a 9x13 pan. After it's cool, frost with a rather thin layer of frosting. Put a cup of frosting in a pastry bag fitted with a round tip (# 3) OR in a heavy-duty ziptop bag, one lower corner reinforced with tape, then snip off a tiny corner. Squeeze frosting out, letting it randomly pile up a bit on itself to form the 'spaghetti'. Unwrapped Ferrero Rocher make splendid meatballs, and strawberry jam makes for good 'spaghetti sauce'. Grate a little white chocolate over the top for the 'parmesan' look.