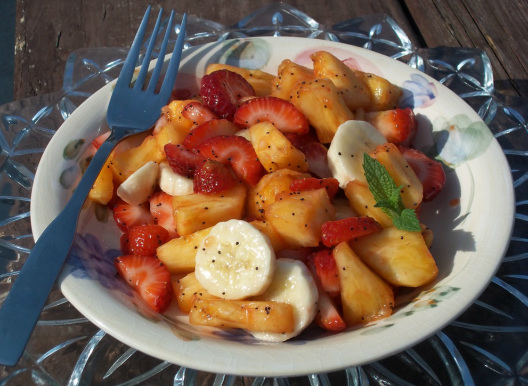 A local store (Winco) has fresh pineapples for $. 99 apiece. What a treat! They always remind me of watching my grandmother and aunts bottle jar after jar of pineapple in a hot kitchen. The smell carried clear outside the house, and we grandchildren would sit, watching and chewing on pineapple cores until our tongues hurt. There was also the time the caramel smell of baked pineapple wafted out of my great-grandmother's attached apartment... after shopping, she'd set her pineapples on top of the the cooktop, and somehow it got turned on.
Anyway, I made this salad for a family get-together yesterday; my grandparents were in town. The tartness of the strawberries is tamed by the super-sweet pineapple, as well as the honey in the dressing, and the lime accents the bright flavors. Banana tames the intensity just enough.
Pineapple-Strawberry-Banana Salad with Lime-poppyseed dressing
Dressing
:
2 Tbsp. honey
1 Tbsp. poppy seeds
8 drops lime essential oil, or 1 Tbsp. finely shredded lime zest
1 Tbsp. lime or lemon juice (I used one
lime ice cube
)
Whisk together and set aside.
Fruit:

1fresh pineapple, cut into bite-sized pieces
1 lb. strawberries, sliced
2-4 bananas

Put in a large bowl, pour dressing over; stir and fold gently to coat. Other fruits to use, either in addition to the bananas or instead of them, could include apples, pears, or mango.