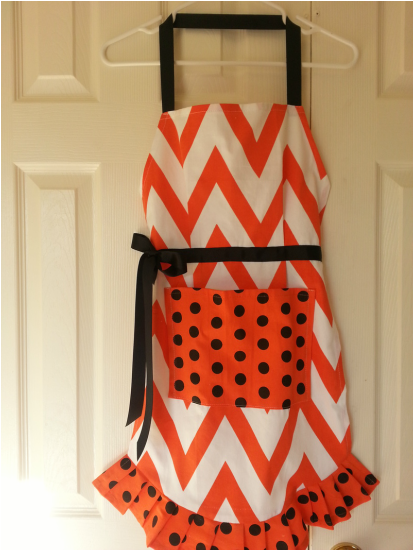 The apron is made with two 15x25" flat-weave dish towels from a local discount store. The apron below is from two dish towels from the dollar store. The orange ones were in the Halloween decoration section, the red and blue in a Fourth of July decorations section. It would have been cute to add a star-shaped pocket on the red and blue one, but that would require a third dish towel, since I wanted a flounce at the bottom of the apron.

The whole thing takes under an hour to make if you're used to sewing. How much less, I don't know because of my Mommy Sewing Method... you know the drill! -Cut, iron, start stitching, pull out lunch for everybody, sit and eat with everyone, sit and sew, stop to get the Table-Clearer child back to do his job, iron, sew a little more, stop to get the youngest child down for a nap, sit and sew some more...

You could use the terrycloth dish towels for an extra-absorbent apron. There are some cute dish towels sometimes!