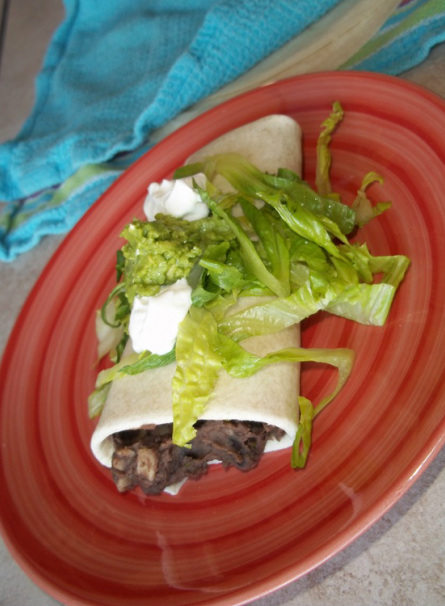 This recipe makes a big batch, about 11-12 cups (5 pounds) of refried beans. The point is to have enough to freeze for later. Since I buy beans in 25-lb bags for about $17, the beans for this cost just $1.40, a big onion was $ .30. Not counting the spices – which are a small amount- this adds up to just under $ .08 for each half-cup serving of refried beans! I used them to make some burritos to freeze for my husband's lunches.
You can make these fat-free, but I prefer to use at least some fat, for a few reasons. One is that it helps in digestion- fiber is easier on your system when there's some fat there to help it along. Another is that it helps make certain vitamins available- vitamins A, D, E, and K are fat-soluble, which means if you don't eat fat along with those vitamins in your food, your body is not able to absorb them. Besides all that, fat helps you stay full longer, plus helps the beans taste more moist and delicious!
According to
CalorieCount
, a half-cup of these -before the cheese- have 3.7g fat, 15g fiber, 21g protein, 27% of your RDA for iron, plus are high in magnesium, potassium, and thiamin. How's that for cheap, filling nutrition?
5 cups dry beans (about 2 lbs) – I used black beans but pinto are also good
1-2 onions, coarsely chopped
9 cups water

Sort through the beans and remove any dirt or rocks. Rinse them, then put the beans, onion, and water in a pressure cooker. Put the lid on and bring up to pressure. Cook on high pressure for 45 minutes. Let the pressure drop completely before opening up.
If you don't have a pressure cooker, put the beans and onion in a big pot, cover with about 3 quarts of water (12 cups), bring to a boil, and simmer for about 4 hours. Check occasionally to make sure there's still enough water to barely cover the beans, adding more if needed.
You'll have about 12 cups of cooked beans. Drain them but keep the liquid. Stir in:
2 tsp. chili powder
2 tsp. salt
½ tsp. liquid smoke
¼ c. coconut oil – OR use bacon drippings and omit the liquid smoke

Puree or mash them - I put 3 cups at a time in my blender. Add a little cooking liquid if they're too thick. They WILL thicken some as they cool. Taste them and add more of any seasoning you think they still need. This version is lightly flavored.
To make bean and cheese burritos, stir in
4-8 oz. mild or medium cheese
, shredded on the biggest shredding holes.
If you're making 6-oz burritos, you'll need about
24 flour tortillas
(size about 8" across). If you want 4-oz burritos, you'll need about 40-48 tortillas.