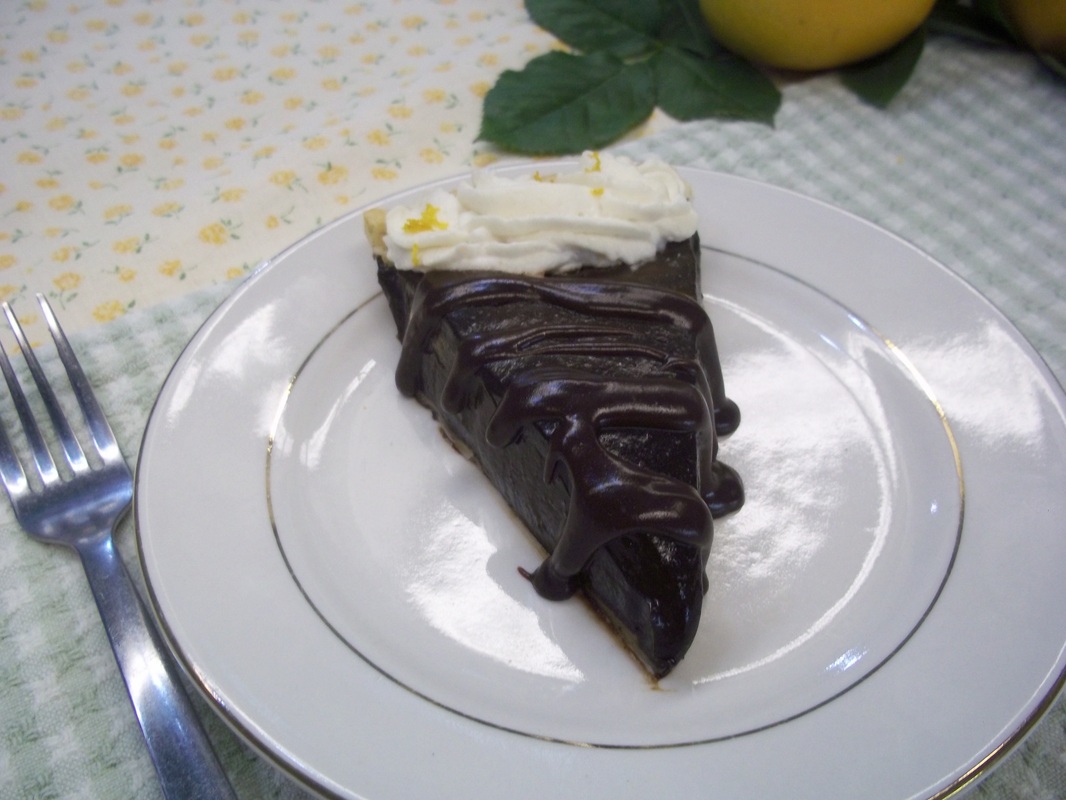 The Utah State Fair is going on this week and next. Every year, in addition to displays and exhibitions, they hold Bake Off contests. It's been a few years since I went, but it's something my family and I enjoy participating in.
The competition on Thursday was the "Governor Herbert's Favorite Pie" Bake Off. He and his wife were taste-testers of all the pies, but there were three pastry shop owners/chefs brought in as the judges. Long story short, this is the pie I brought. They liked it (it earned second place), and nobody could believe what the 'secret ingredient' was! Two whole avocados. Sounds like an April Fools' Day food, doesn't it?
When made in a plain chocolate pie, the avocado can be detected only as a faint fruity taste. I took advantage of that by using orange juice and zest in the pie. I've made several flavor variations on this pie, but the chocolate-orange is my favorite. Well, the favorite chocolate version, anyway. I really, really like the
Lime Silk Pie
.
This filling is free of gluten, eggs, dairy, refined sugar, and nuts! If that matters to you, just be sure that the crust and toppings you use are, as well.
The pie also
freezes well
. The texture softens slightly after being thawed, but not by much. To thaw one piece, let sit at room temperature 20-30 minutes. To thaw the whole pie, let it sit 45-60 minutes instead.
If you cut the amount of orange juice or water in half and just pour it in a pan, you get
fudge
instead.
Chocolate Truffle Pie
Juice and finely shredded zest from one large orange or two smaller ones
½ cup honey
½ cup coconut oil
½ cup unsweetened cocoa powder
2 ripe avocados, about 5 oz. apiece
1 ½ tsp. vanilla
1/8 tsp. salt
One 8" pie crust
Fudge sauce
Whipped cream
Measure orange juice; add a little water or more juice to equal ½ cup. Put the orange juice, zest (should be about 1 Tbsp), honey, coconut oil, cocoa, avocados, vanilla, and salt in a blender or food processor. Run on high for 1-2 minutes, until smooth. Pour into prepared crust. Cover and refrigerate 2-3 hours until set. Let stand at room temperature 30-60 minutes before serving for a softer texture.
Serve with a drizzle of fudge sauce and some whipped cream.