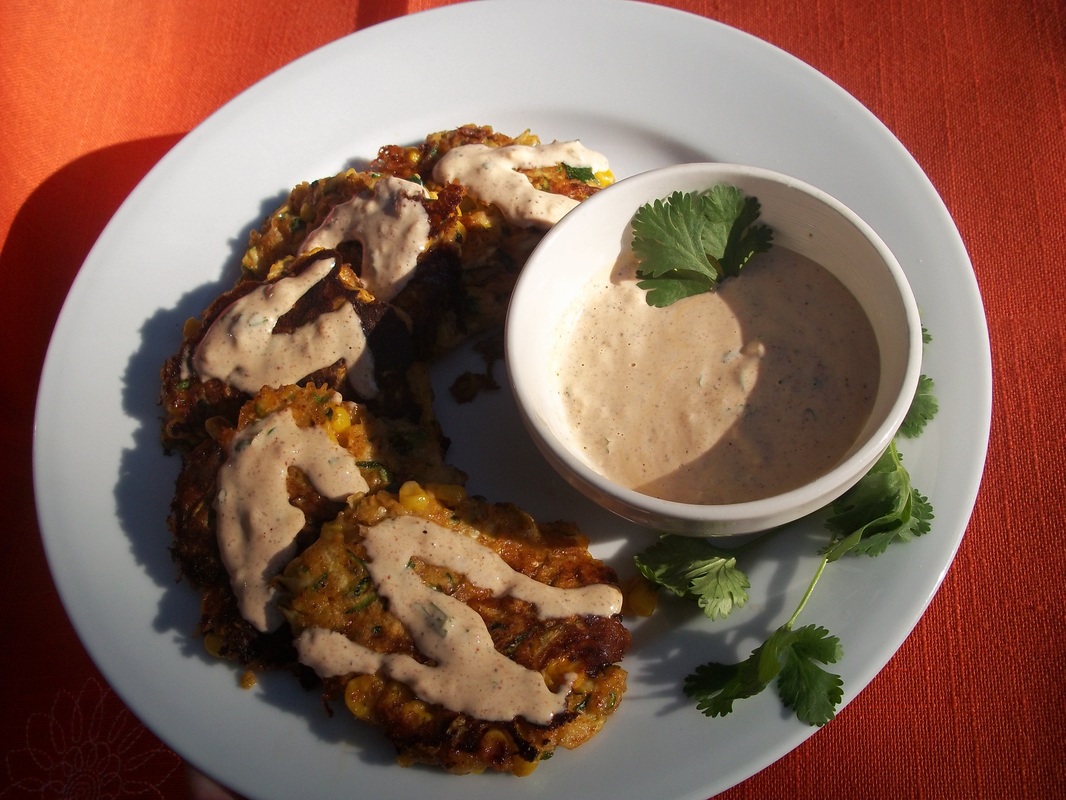 Who couldn't use another recipe for zucchini right about now?
This year I really HAVE seen cardboard boxes with a "FREE ZUCCHINI" sign written in permanent marker, along the side of the road.
As you can see, this we're not talking about zucchini CAKE... these are tender, flavorful pan-fried morsels, related to crab cakes. Without the crab. There's an endless variety of ways to make these, this particular batch has a Southwestern flair, served with a creamy cilantro-scented Lime Chipotle sauce. We had them for dinner last night and had leftovers. They would make a nice accompaniment to grilled chicken or beef, but I served them as a meatless main dish.
This afternoon about 4:00 I suddenly remembered them again- and promptly finished off the last couple of them for a snack. YUM! (Actually, I took a couple over to a neighbor, who immediately asked for the recipe.)
This is a pretty big batch, I think it made about eighteen 3-inch cakes. Feel free to cut the recipe in half. You can always make the full batch, though, and freeze extras. Bake at 350 for 10-15 minutes to reheat and recrisp, or toast in a toaster oven. See below for the recipe.
I got a plainer version originally from
JustPutzing.com
, though her version was tweaked from one on
TheLife'sAmbrosia.com
Neither one of those used corn. I like it for the sweet flavor it adds, along with some non-squishy texture, but you can certainly leave it out. If you do, you'll only need 2 eggs.
Feel free to add in different spices, use different kinds of cheese (the original used Parmesan, in half the amount), or serve with different sauces. Ranch dip would be delicious. So would honey mustard. I intend the next batch to resemble crab cakes even more- I'll add Old Bay to them, a little finely-grated onion, add maybe a teaspoon of honey for a hint of sweetness, and serve with tartar sauce.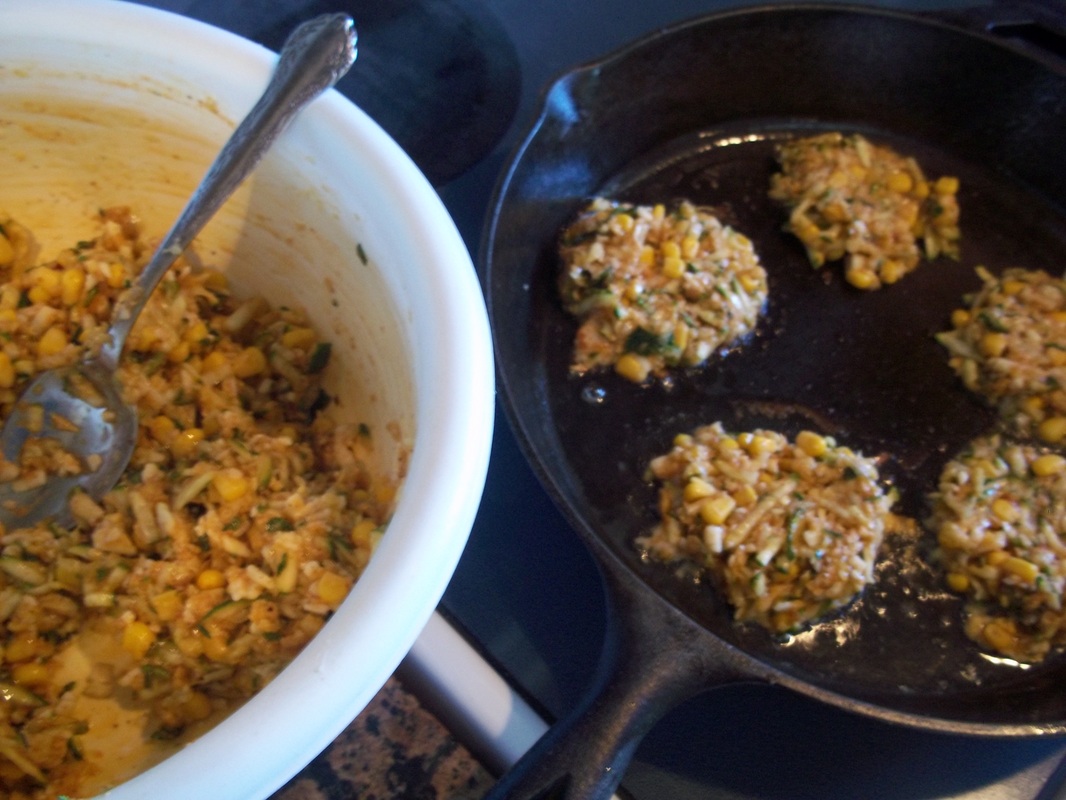 Southwestern Zucchini Cakes


1 lb. zucchini (3 small)
1 cup corn kernels (I used canned, then drained them well)
1 c. shredded mild white cheese (I used Havarti 'cause I found it for $2/lb)
2 Tbsp. salsa if you have it around (OK without but good for color)
1 cup panko bread crumbs (or other crumbs- bread, cracker, gluten-free, etc)
1/2 tsp. salt
2-3 tsp. chili powder (to taste)
3 medium to large eggs, beaten
3-4 Tbsp. cooking oil


Shred the zucchini on fine or medium holes. Grab a handful, hold it over a plate or bowl, and squeeze hard to remove excess liquid. Put the squeezed zucchini in a mixing bowl, and repeat with all the zucchini.
Stir in the corn, cheese, salsa, bread crumbs, salt, and chili powder. Taste and add more of whatever you think it needs. Stir in the eggs, cover, and refrigerate for 20-30 minutes. (You can skip this step, but this gives the mixture time to bind together, as the egg soaks into the crumbs. This makes them much easier to form and flip. While it chills, make the sauce below.)
Heat a skillet over medium heat. Add 1 Tbsp. oil to it. When oil is nearly smoking, scoop 3-4 Tbsp of the zucchini mixture into the pan, then flatten to about three inches across. Repeat with as many as will fit in the pan with about 1" between them. Cook for 4-5 minutes, then flip over. Cook for another 2-3 minutes, until golden.
Add another tablespoon of oil to the pan before starting the next panful.

Makes about 18. Serve warm or room temperature.

Creamy Chipotle Sauce (adapted from America's Test Kitchen)

Note: Chipotle is smoked jalapeno pepper. I don't have any on hand, so I came up with a similar flavor with what I DID have, though it wasn't nearly as hot. If you like more heat, add a little cayenne or red pepper flakes. If you happen to have canned chipotle around, use 1-2 tsp., minced, in place of chili powder and Liquid Smoke)

2 Tbsp. mayonnaise
2 Tbsp. sour cream (I didn't have this, either- use plain yogurt, or like I did, thick kefir)
1-2 tsp. chili powder (to taste- my kids were happy with just 1 tsp.)
1/4 tsp. garlic powder, or one minced clove fresh garlic
2 drops Liquid Smoke
2 tsp. minced fresh cilantro
1 tsp. fresh lime juice
2 drops lime essential oil if you have it

Stir together. Cover and refrigerate about 30 minutes to blend the flavors.
Makes about 1/4 cup.

If you double the recipe, you can have leftovers to change into a fabulous salad dressing: Thin down with a little water or lime juice. Salt and pepper to taste.