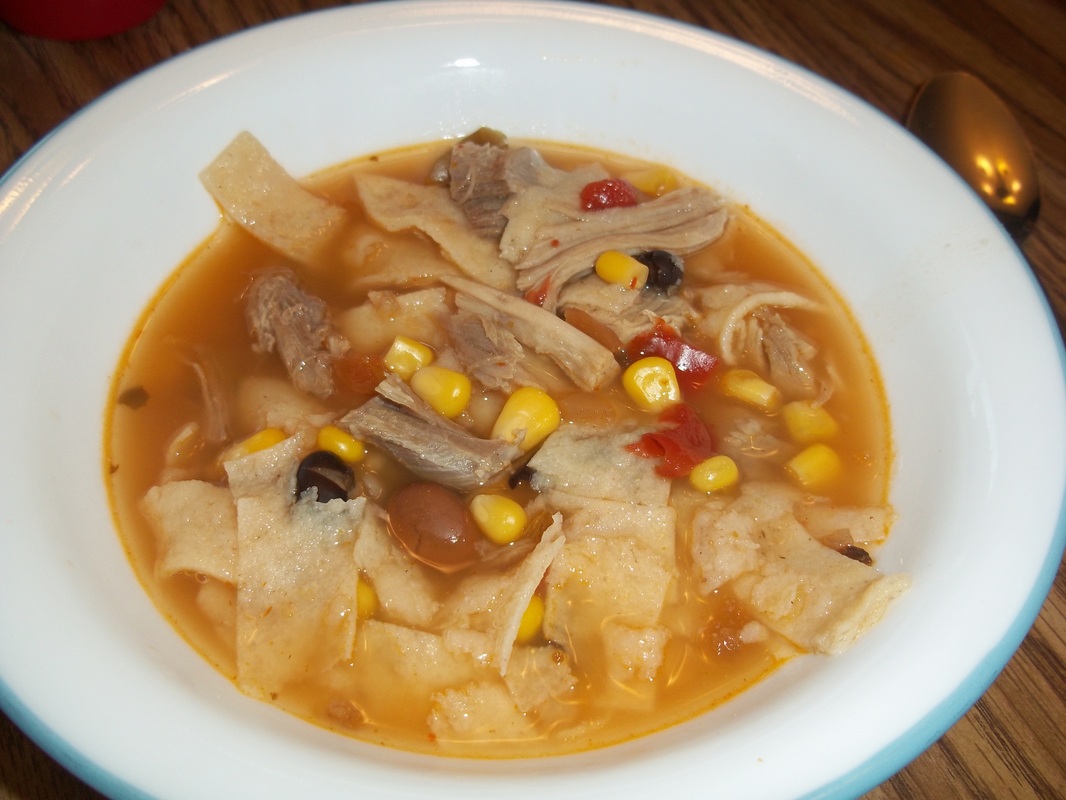 They are the bane of some people's existence, the best friend of others. Some people turn them into casseroles, but they often turn into soup at my house.

What are they?

Leftovers.

Yup, love 'em or hate 'em, we often have 'em sitting in the fridge or pantry. That last half-cup of gravy, a lonely bowl of chili, a stack of day-old (OK, maybe several-day-old) corn tortillas...

They call out to be useful. To be loved. To be eaten. Maybe disguised first.

Dinner tonight was Tortilla Soup, sort of a Mexican twist on chicken noodle soup. So how does this tie into using leftovers? Those dry tortillas got cut into strips, then toasted in the oven while the soup cooked. The soup itself was made using water, some Mexican-type fat free salad dressing (like a watery lime-cilantro salsa, a great flavor base), a cup of leftover meatless chili (for fiber, heartiness, and deeper flavor), that aforementioned 1/2 cup of gravy (providing a little body and more chicken flavor), a package of frozen cooked turkey from just after last Christmas, and a can of corn (sweetness, saltiness from the 'juice', and a pleasant 'pop'). The tortilla strips were stirred in at the last minute because they disintegrate if you cook them much. If I had any fresh cilantro or sour cream it would have gone on top as a garnish. Cheese would be delicious there, too.

Take a look in your fridge and see- what can you do to give those leftovers another shot at life?

Leftover Tortilla Soup the way I made it. Feel free to improvise; that's what this is!

10-12 corn tortillas, cut in 1/2" wide strips
1 quart water
1 (14 oz.) can whole kernel corn, WITH the juices
10-16 oz. salsa or similar
1 cup of chili or 1 (14 oz.) can of beans
2 cups cooked diced chicken or turkey

Spread tortilla strips on a baking sheet, put them in the oven about 8" under the broiler, just long enough to toast them a bit, about 2-8 minutes, depending. (The idea is that if they're toasted, they might not disintegrate as quickly in the soup. I might be wrong. They at least have a better flavor when toasted.)

Combine the water, corn, salsa, beans/chili and chicken/turkey in a 3-quart or larger pan. Bring to a boil, then simmer for 10 minutes to combine flavors. Remove from heat and stir in tortilla strips. Taste, then add salt and pepper if needed. If it needs more flavor, a little lime juice, chopped cilantro, chicken bouillon, or chili powder would taste good.

Have fun!