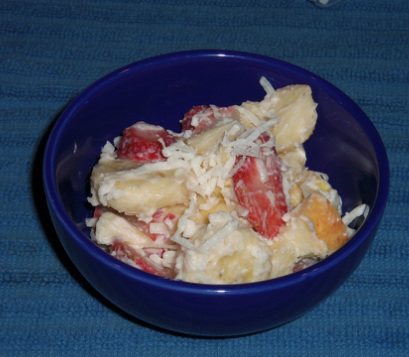 One of my children is needing to avoid dairy for a while, but I found strawberries on sale and wanted a creamy salad using them. Add some pudding? Not an option. Yogurt? Nope. Whipped cream? No, but... I had coconut cream. The thick, creamy, good stuff you find at the top when you open a can of coconut milk. So I used that. It worked beautifully. Everyone was happy.
It's super fast, too. If you feel like making it fancier, you can whip chilled coconut cream (yes, it whips, just like dairy cream, but goes flat faster if it warms up).

Creamy (Dairy-free) Fruit Salad
1/2 pint fresh strawberries, hulled and sliced
2 bananas, peeled and sliced
1 apple, cored and chopped (I leave the peel on)
3 Tablespoons coconut cream
3 drops lime or orange essential oil, optional
2 Tablespoons shredded sweetened coconut
Combine fruit in a medium bowl. In a small bowl, stir together the coconut cream and essential oil, until smooth. Pour over fruit and stir gently to coat. Sprinkle with coconut.
(If you like things sweet or if your strawberries are sour, add 1 Tbsp. honey to the coconut cream mixture
Serves 4-6