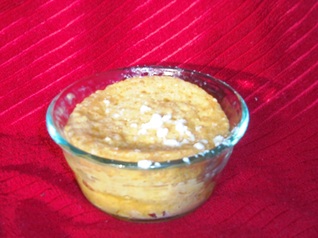 Do you love German Pancake but don't have enough time in the morning to bake one?

Try the microwave! The five minutes, above, includes the time to mix the batter; it takes under one minute to cook.

It won't get brown and crispy on the edges, but it tastes pretty close to the same, especially if you happen to have some browned butter or ghee to use at the bottom of the cup.

This version makes 4 individual servings, or cut everything to 1/3 and have one little bit larger serving.

Five-Minute German Pancake

1 cup milk
1 cup flour
3 eggs
4 tsp. melted butter, ghee, or browned butter

Whisk together milk, flour, and eggs until smooth.

Pull out 4 (6 oz.) microwave-safe cups/bowls/mugs. Place 1 tsp. melted butter in bottom of each. Pour 1/2 cup batter in each; microwave until puffy and almost dry on the center top, about 45 seconds. Drizzle with lemon juice and sprinkle with powdered sugar, or use whatever toppings you prefer.