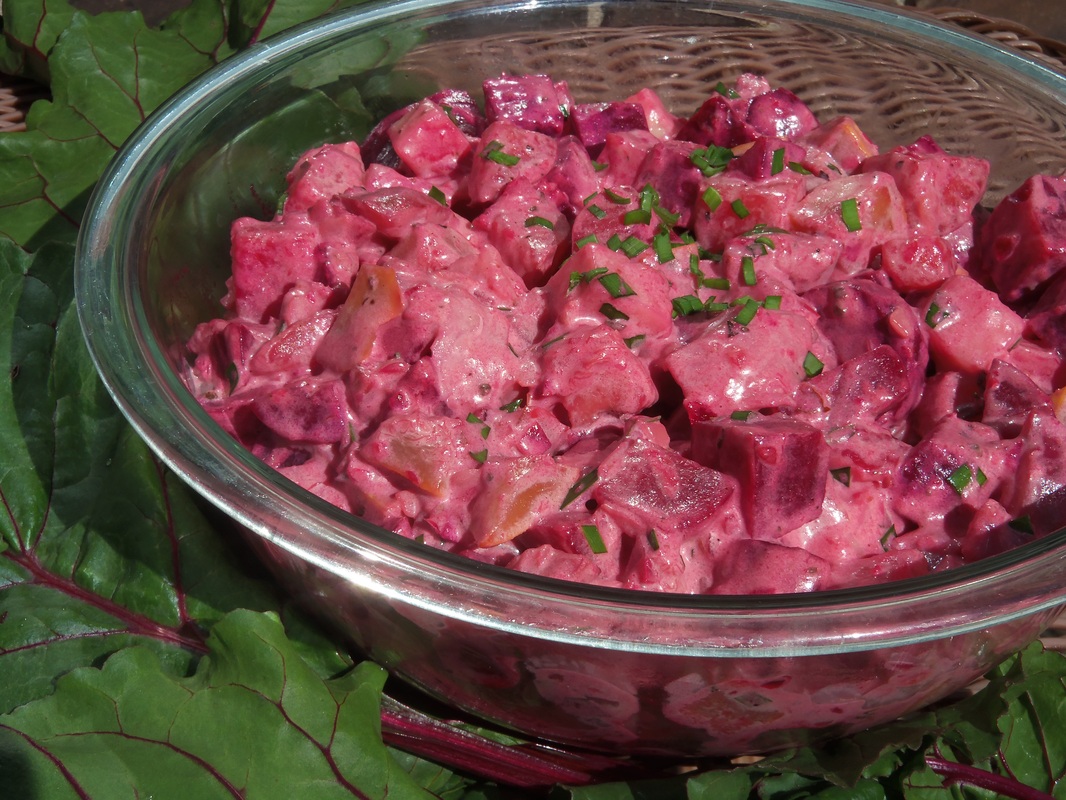 About twenty years ago, a group of my neighbors got together for a "Summer Salad Social". One of the more unusual offerings there was a salad from a friend from Argentina; she said it was a fairly common salad there- cubed cooked beets with cubed cooked potatoes. This one is not a lot like hers- which wasn't even pink-- but that was the memory that sparked this salad's creation. My husband says it's a keeper, especially since it was made using fresh-from-the-garden beets and potatoes. The flavor is even better the next day.

Since there are children to feed here, I called it something else for my girls' benefit: "Princess Pink Potato Salad". :)

If you live near me, I have lots of garlic chive plants to share!

Summer Pink Potato Salad

1 lb. beet bulbs, about 4 medium
1 lb. new potatoes, cubed, or halved if small
1 lb. summer squash, cubed
2 Tbsp. Italian dressing OR 1 Tbsp. balsamic vinegar
4 oz. ham or smoked turkey, diced
6 oz. mozzarella, cubed
a few sprigs of fresh thyme, or 1 tsp. dried thyme
1/4 c. garlic chives, chopped, OR a handful of chopped green onions and a sprinkle of garlic powder
1/4 c. mayonnaise

Bring about 2" of water to boil in a medium-large saucepan and add 1 tsp. salt. Trim beets, leaving about 1" of stem on top. Scrub and rinse, but don't peel them. Let them cook, covered, in the simmering water for about 45 minutes, or until the largest can be pierced easily with a fork. Remove beets, saving the water.

Add the potatoes to the water. Simmer, covered, for 10-15 minutes, until tender. Remove the potatoes using a slotted spoon, and put them in a large bowl. Add the Italian dressing or vinegar, and toss gently to coat.

Add the squash cubes to the water; simmer, covered, for 5 minutes, or until barely tender. Pour into a colander and rinse in cold water to stop the cooking.

Add to the potatoes. Now that the beets are cool, slide the beet skins off, then cube the beets. Add to the bowl, along with the ham/turkey, mozzarella, thyme, and garlic chives. Stir to distribute evenly, then add the mayonnaise, along with salt and pepper to taste. Stir until everything is a beautiful pink. Store any leftovers in the fridge, covered.