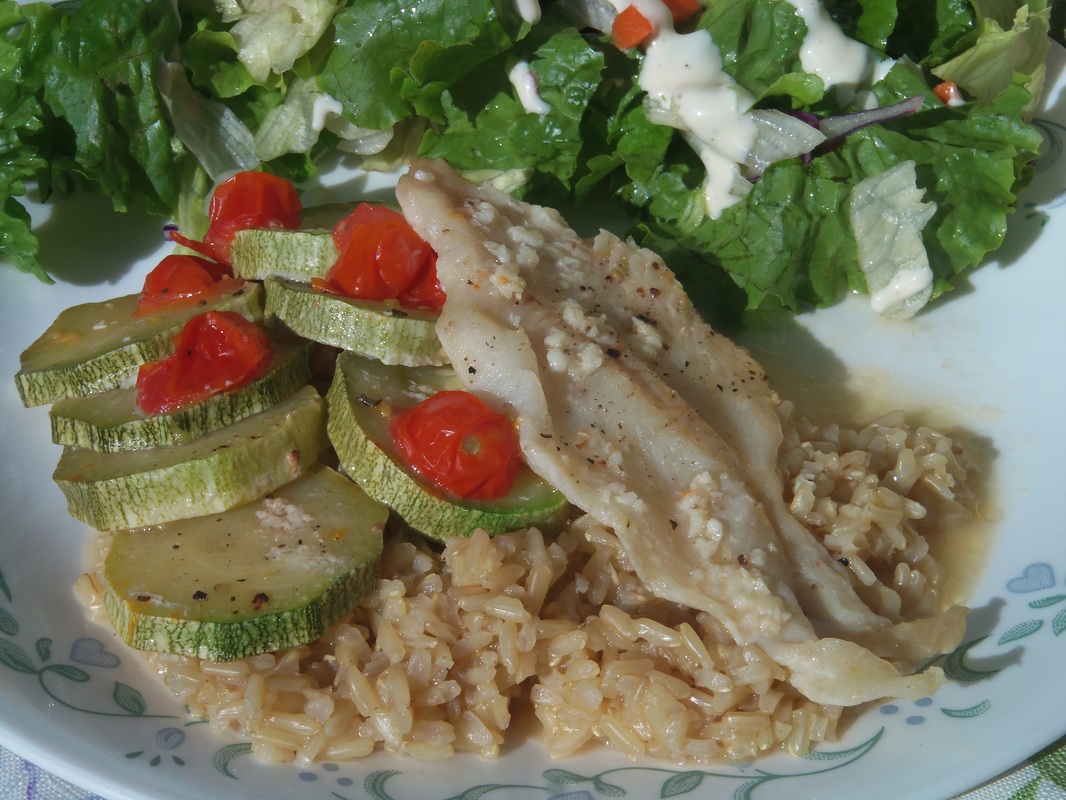 Can you tell it's zucchini and tomato season? I've wondered before why so many recipes combine those two vegetables. I now suspect that it's partly because the plain zucchini excels at tasting like whatever you cook it with, and very few things can top a fresh garden tomato in the flavor department. This recipe also uses any mellow white fish, probably for the same reason. The other ingredients both perk up and round out the flavor. This one's a keeper.

Baked Fish and Vegetables

4 Tbsp. butter, softened
3 garlic cloves, minced
1 Tbsp. lemon juice
1 tsp. grated lemon zest or 2-3 drops lemon essential oil
1 lb. zucchini or summer squash,sliced 1/4" thick
1 lb. tomatoes (3 medium), sliced thin, OR cherry tomatoes, halved
1/2 c. minced fresh basil or 1 drop basil oil
salt and pepper
1 1/2 lbs. mild white fish
2 Tbsp. white balsamic vinegar*

Preheat oven to 450 F and move an oven rack to the lowest position. Mix together the butter, minced garlic, lemon juice, and zest. If using basil oil, add it to this mixture. Rub a little of the butter mixture on the bottom of a 9x13 pan.

Put the zucchini slices in the bottom of the 9x13 pan; add the tomatoes in a second layer. Sprinkle with salt and pepper and with half of the basil (unless you used basil oil). Pat the fish dry with paper towels, then place the fish on top of the tomatoes. Dot the butter over the top, add the rest of the basil, and drizzle with the vinegar*. Cover tightly with foil; bake about 20 minutes, or until the fish flakes when you twist a fork in it. Serve immediately.

Serve over rice to pasta to soak up the delicious sauce!

*The original recipe, from America's Test Kitchen, calls for 1/4 cup dry white wine. I don't cook with wine, so the white balsamic is what I found in my pantry to add the savory flavor. Since it's strong, I used only half as much (2 Tbsp. instead of 1/4 c.). If you have neither, chicken broth and a splash of soy sauce would give a similar depth.