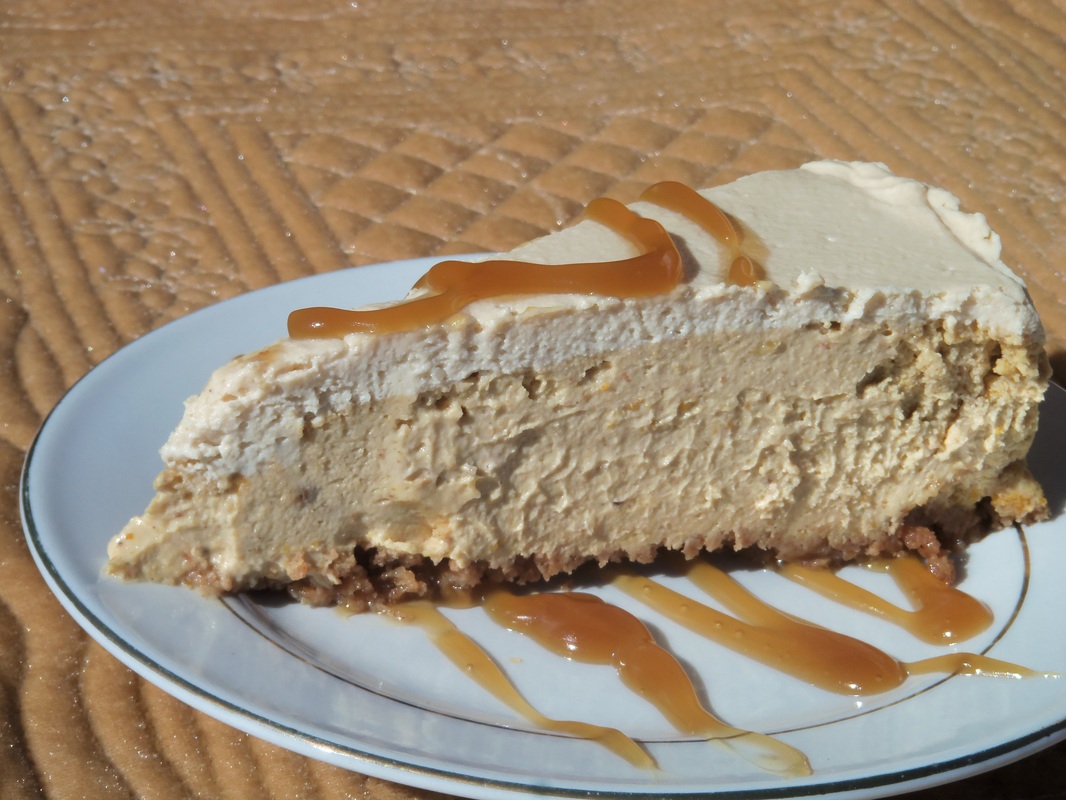 This seasonal New York-style cheesecake is not exactly "lite", just light. Not leaden. But it is a little lower fat because I substituted one cup of cottage cheese in place of the original one cup of heavy cream. :) This gives it a higher protein content and reduces the fat.
This is an amazing pumpkin cheesecake, with just the right amount of tartness, sweetness, and spice. I adapted it from an America's Test Kitchen recipe. The whipped cream topping is optional but perfect.

The recipe- which is below- calls for a 9-inch springform pan. I don't own one, but I do have a 9-inch round cake pan. I use it instead by cutting out a circle of parchment paper and lining the bottom with it, spraying the inside edges with cooking spray, and going ahead with the baking. When it's done, run a knife around the inside edge to help it pull away, cool and chill completely, and invert the pan over a plate. Tap hard. If it's being really stubborn, run hot water over the bottom of the pan (held at an angle so the plate doesn't fill with water) and try again.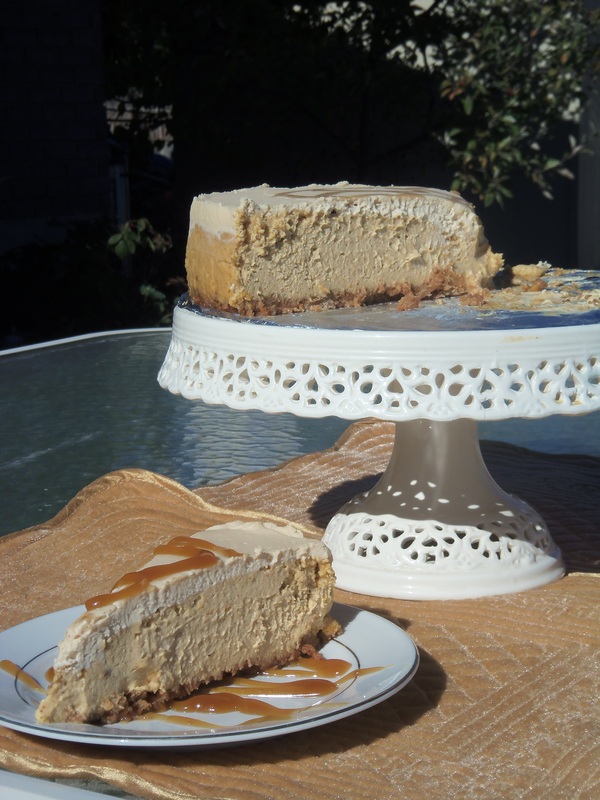 Pumpkin CheesecakeCrust
1 sleeve (about 5 ounces) graham crackers- whack it a few times to break into chunks
6 tablespoons butter
3 tablespoons sugar
1/2 teaspoon ground ginger
1/2 teaspoon ground cinnamon
1/4 teaspoon ground cloves
Preheat oven to 325 degrees F. Put the cracker pieces in a blender or food processor; run until finely ground. Put the butter in a 2-cup microwave-safe container and melt it, about 30 seconds in the microwave. Dump in the crumbs, sugar, ginger, cinnamon, and cloves. Mix well, then sprinkle over the bottom of a 9" springform pan. Press down evenly using the bottom of a glass or something else flat. Bake for about 15 minutes, until it starts smelling delicious. Remove and let cool while you make the filling.
Filling
2 cups pumpkin puree (canned or
your own
- or, better yet, use
pumpkin powder
)*
1 1/3 cups sugar
1 teaspoon ground cinnamon (or use 2 tsp. pumpkin pie spice in place of these four spices)
1/2 teaspoon ground ginger
1/4 teaspoon ground nutmeg
1/4 teaspoon ground cloves
1/2 teaspoon salt
3 (8-ounce) packages cream cheese, room temperature
1 tablespoon vanilla extract
1 tablespoon lemon juice
1 cup cottage cheese
5 large eggs room temperature
Pour the pumpkin puree on a triple layer of paper towels, spread evenly, then top with another triple layer. Press firmly to absorb the extra moisture. The Test Kitchen said that when they didn't do this, the cheesecake was always wet. OR- best idea ever!- use your
pumpkin powder
, using only half the water you normally would. That means you'd use 6 Tbsp. pumpkin powder-- barely over 1/3 cup-- plus enough warm water to equal one cup. (Ta-da! aren't you extra-glad now that you made some?!)
Bring 4 quarts of water to a boil for a water bath later. Put the pumpkin in a blender or food processor, and add the sugar, cinnamon, ginger, nutmeg, cloves, salt, cream cheese, vanilla, lemon juice, cottage cheese, and eggs. Blend until smooth. Pour over crust. Put this pan in a roasting pan or on a jelly roll pan if that's all you have. Put it in the oven, then pour water in that larger pan, enough to come about halfway up the sides of the cheesecake pan. Bake for about 1 1/2 hours, until the center wobbles like Jello instead of like water; a thermometer poked into the center should register 145-150 degrees F. Run a knife around the inside edge of the cheesecake, then put the cheesecake pan on a wire rack to cool. When cool, chill for at least 4 hours to let it firm up. (I didn't have that much time; mine cooled on the counter for 30 minutes, then went in the fridge for 3 hours. It was a little soft in the center, but sliced OK. The leftovers sliced much more nicely the next day.)
Brown Sugar and Rum (flavor) Cream Topping
1 cup whipping cream, very cold
1/2 cup sour cream or 4 oz. cream cheese, softened
1/2 cup packed light brown sugar
1/8 teaspoon salt
1/2 tsp. rum flavor*
Whip the cream until it barely starts to thicken. Add sour cream or cream cheese (I used cream cheese since I was out of sour cream), brown sugar, salt, and rum flavor. Beat about a minute, until thick; spread on top of cooled cheesecake.
*I have a whole bunch of Stephen's Gourmet Rum Sauce mix packets; each packet makes 2 cups of sauce; I used half of one dry mix in place of part of my sugar. But I don't know if the company still makes the mix; I got them for ten cents apiece on a clearance deal. So you can use rum flavor. Or use 2 tsp. rum if you happen to like it. Or, if you live nearby, call me and you can have a packet. :)
I also cooked a bit of the sauce and used that to drizzle a design on the top of the cheesecake. Mini chocolate chips sprinkled on top would be great instead, as would some sugared pecans or hazelnuts. Mmm.