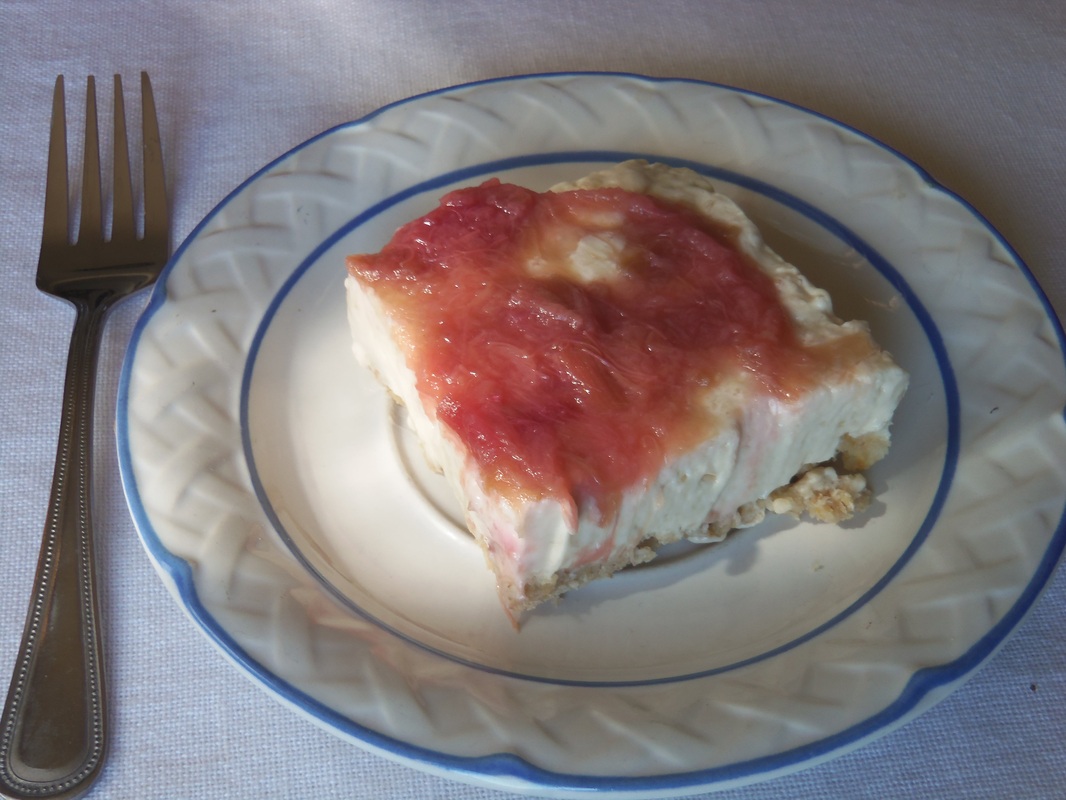 This is a refrigerator cheesecake; no baking needed! It takes only about ten minutes until the filling is set enough to serve. This one has a rhubarb topping, but use whatever you like on the top! The cheesecake can be made gluten-free, and this version is sweetened with honey. It can even be dairy-free if you have a nondairy substitute for cream cheese; use any milk you prefer in place of the milk called for in this recipe.
This makes one 8x8 pan or one 8" pie pan. Pick your shape. :)
Crust:
3/4 c. quick-cooking oats (GF if needed)
1/4 c. oat flour (whirl oats in the blender until powdered)
2 Tbsp. coconut oil (melted) or butter
1 Tbsp. honey, liquid
Stir all four ingredients together, then press into the bottom of an 8x8 pan or up the sides then along the bottom of an 8" pie plate. Put it in the freezer to firm up while you make the filling.
Filling:
6 oz. cream cheese, softened
3 Tbsp. honey
2 Tbsp. lemon juice (fresh is best)
pinch of salt
1 tsp. vanilla1/2 cup evaporated milk, half-and-half, or whipping cream (or coconut cream)
2 Tbsp. Ultra Gel
Beat the cream cheese until softened, then mix in the honey, lemon juice, salt, and vanilla; beat until smooth. Gradually add the milk/cream and Ultra Gel; beat until thick and fluffy. Spread evenly over the chilled crust. Let chill for at least 5-10 minutes away if you like. Store any leftovers in the refrigerator.
Lemon Topping
: 1/4 c. lemon marmalade (use
this recipe
, substituting lemons for orange), thinned with just enough water to make it a sauce.
Rhubarb Topping
:
1 c. chopped rhubarb (about 1 big stalk)
1/4 c. water
1 1/2 - 2 Tbsp. honey, to taste
Combine in a microwave-safe bowl. Microwave for two minutes; stir. Repeat until the rhubarb is soft. Mash and taste to see if it's sweet/tart enough for you.