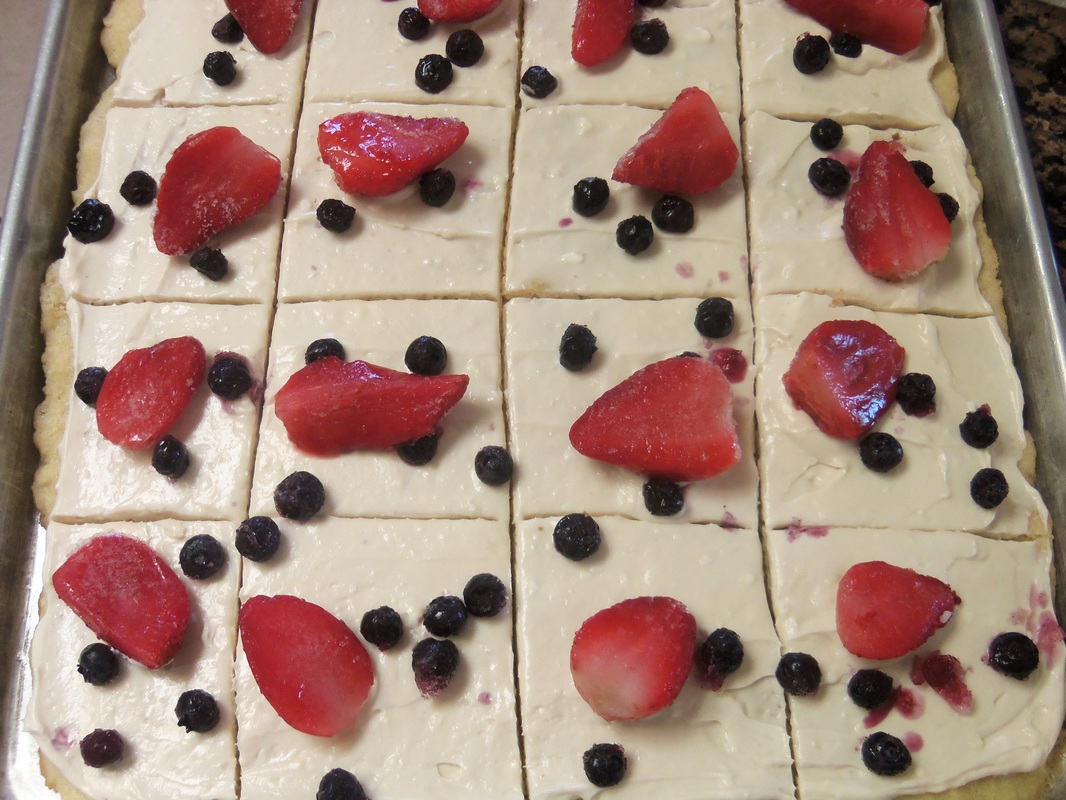 The monthly envelope full of local ads and coupons arrived a couple days ago. As I flipped through it, one summery dessert caught my eye: a dessert pizza. It was an advertisement for a local pizza buffet, "only" $5.99 for the buffet.
Well, we have 7 people at home, so $6 x 7 is not something we're willing to spend very often. :) Instead, I could make this for under $4 with what I had on hand. Frozen blueberries and strawberries are always in the freezer here; I get them at DollarTree in the frozen section. Cream cheese stores way beyond its sell-by date, so I stock up when it's $1 for 8 ounces. A local store recently had whipping cream at $.33, and it stores quite a bit past the sell-by date, plus it can be frozen. And I stock up on butter when it's on sale, then keep it in the freezer.

What are some of your must-have-on-hand ingredients?

Cookie base
1 stick butter (1/2 c.), softened
1 c. sugar
1 egg
1/3 c. buttermilk, kefir, OR sour milk (add 1 Tbsp. lemon juice to fresh milk to make 1/3 c.)
1 tsp. vanilla
1/2 tsp. baking soda
1 tsp. baking powder
1/2 tsp. salt
2 1/2 c. flour

Preheat oven to 375 degrees F. Cream the butter with sugar; beat in the egg, buttermilk, and vanilla. Combine baking soda, baking powder, salt, and flour; stir in to the other ingredients. Grease or spray a 10x17 rimmed cookie sheet or 14" or 15" round pizza pan. Drop cookie dough on top and pat into an even layer; wet your fingers so the dough doesn't stick so much to you. Bake for 14-20 minutes, until light golden brown on edges and underside. Cool completely.

Topping/Frosting
3 oz cream cheese
1/4 c. sugar
1/2 cup whipping cream
1 tsp. vanilla

2-4 cups berries or other fruit (I used 1 cup frozen blueberries, about 1 1/2 c. frozen strawberries)

Spread the topping over cooled cookie, cut into squares, and then sprinkle or decorate with fruit. Serve; cover and refrigerate any leftovers.