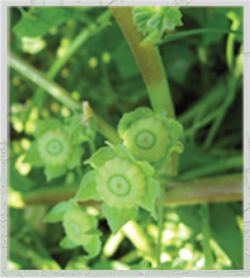 What is this weed?

Learn from a free, full-color weed guidebook online.

Photo courtesy USU Extension
One of the secrets to good gardening is
knowing what you're dealing with
. This applies to pests, soil, weeds, fertilizers, plants, growing seasons, and more. This week I found two great resources to help you with a couple of these. I'm especially excited about a guidebook,
Common Weeds of the Yard and Garden
, from the USU Extension office. It's a FREE, 220-page guide with photos, plant descriptions, information on how to manage the weed, and any historical uses it has had, whether medicinal or edible. If you want a hard copy, either print it out yourself, or contact the USU Extension Office. Their information is included in the guidebook.
In case the link above deoesn't work, you can get it at
http://extension.usu.edu/files/publications/publication/Horticulture_Weeds_2011-02pr.pdf
Understanding Fertilizer is a quick-to-read, one-page article about the basics of fertilizers.

And just for good measure, here is a l
ist of 50+ free cooking/baking e-books from
The Prepared Pantry http://www.preparedpantry.com/Free-cooking-baking-recipe-e-books.htm


Did you know the plant in the photo above? It's Common Mallow. My kids call the little round seeds "cheesies" and love to eat them. Every part of this plant is edible, and the 'cheesies' can even be used to make meringue and marsh
mallows
. (There are recipes for these in
Edible Wild Plants
, by John Kallas. He also has a website,
http://www.wildfoodadventures.com
)
Have a happy day!