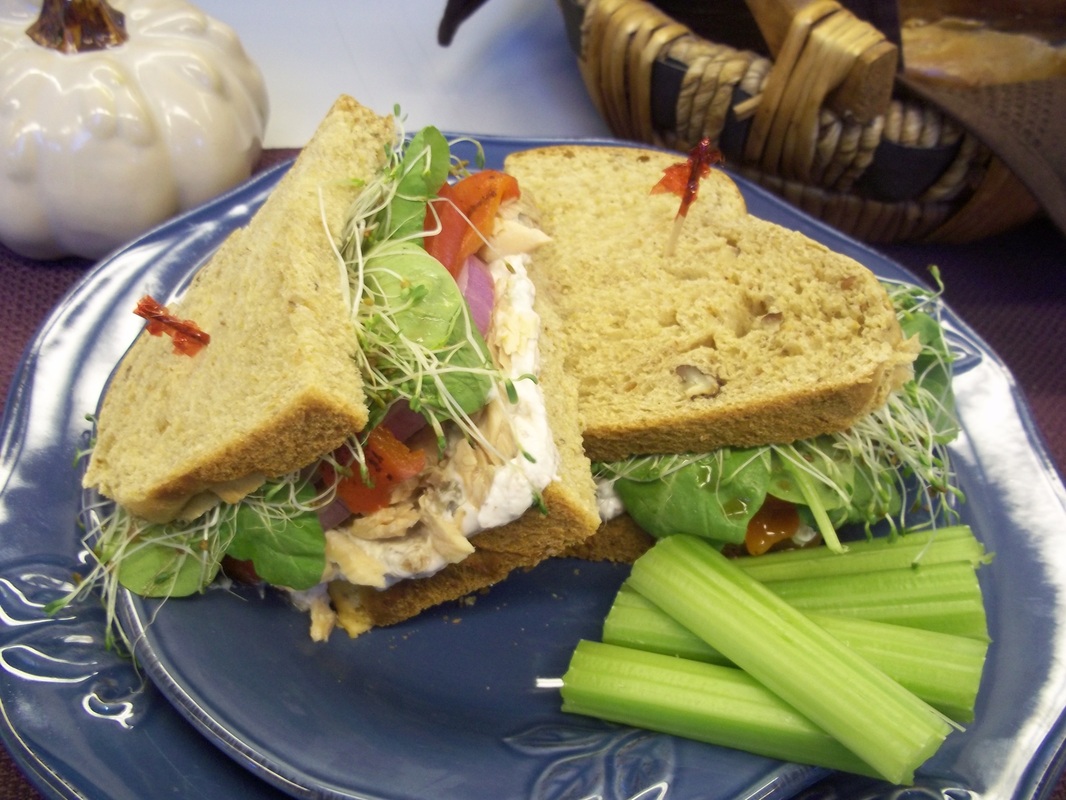 Yeah, I know that smoked salmon is a little expensive for a website with a name like this one has...
Would it help you feel better to tell you I buy it during the after-Christmas "food gift" clearance sales? It's at least 50% off then.
OK, it's still not real frugal. But it does have an incredible shelf life-- and is one of my absolute-favorite foods!- which is why I had a couple tins of it on hand when the idea for this sandwich struck. I decided, the day of the contest, to enter the "Fleishman's Yeast Sandwich Bread Contest 2012" at the Utah State Fair. Which bread I wanted to make was no problem, the
Autumn Harvest Bread
came right to mind. The contest this year, though, specified for 10% of your overall judging score to be from the filling (or "description of a filling"). This is what I came up with to complement the breads' flavors. It will make your tastebuds "dance and sing"! The judges agreed, this took first place in the contest.
Autumn Harvest Smoked Salmon sandwiches
Start with one loaf of
Autumn Harvest Bread
, sliced about 1/2" thick.
* * * * * * * * * * * *
Cream Cheese Filling
:
4 ounces cream cheese, softened
2 Tbsp. very finely chopped (or pureed) red onion
2 Tbsp. minced crystallized ginger
2 Tbsp. finely chopped toasted pecans
¼ c. finely chopped celery
2 tsp. fresh lemon juice
1 ½ tsp. finely grated lemon zest
1/16 tsp. freshly ground black pepper
Stir together, chill at least 30 minutes to blend flavors.
To assemble sandwiches
, spread about 2 Tbsp Filling on each of four slices of bread. Top with 2 ounces smoked salmon, and any of the following you like (I used all of them): thinly sliced red onion, sliced tomato, roasted red pepper, alfalfa sprouts, and arugula. Drizzle with red wine vinegar and sprinkle with salt and pepper. Makes 4 sandwiches.