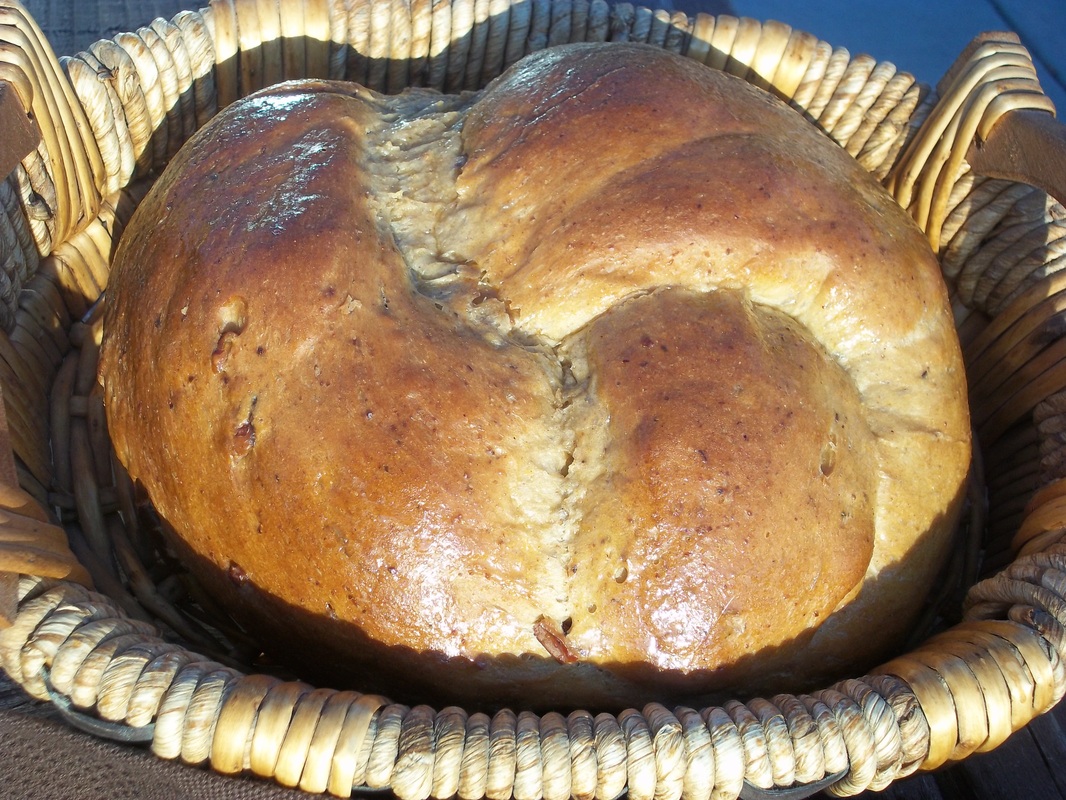 This bread has a thin, chewy crust with an exceptionally tender and moist interior, flavored with pumpkin and honey, scented with cinnamon, ginger, cloves, with a toasty crunch from pecans. (See a photo of the inside
here
.) It is one of my
all-time favorite
recipes. It all started with an artisan bread cookbook,
Amy's Bread
.
My brother had just finished a two-year mission to Spain, and came back with a whole new perspective on bread. He described how fresh, hearty, deeply flavored, and moist those European breads were, with their beautiful, flavorful crusts.
That's it, I thought, I MUST learn to make bread like that.
So I bought a book. (I still have, it, use it, and love it. Her Country Sourdough loaf is perfect, and the thin, crunchy, seeded breadsticks are addicting!)
The recipe below began as one from her cookbook. I've tweaked it over the years, until it can be claimed as my own. We usually just slice and butter it, or toast and spread with cream cheese. It would make incredible French Toast, especially if you stuff it with lightly sweetened cream cheese and top with
fruit syrup
or homemade maple-flavored syrup. For a
sandwich filling
that goes spectacularly well with it, see my next post!
See here for a post on
making pumpkin puree
, or see this one on
making pumpkin powder
. I actually used the pumpkin powder & added water in my batch for the fair.
Autumn Harvest Bread
(Pumpkin-Pecan Yeast Bread)
1 Tbsp. Instant or RapidRise yeast 4 ½ c. bread flour
1/2 c. warm water ½ c. butter, melted
½ c. (6 oz.) honey 1 tsp. cinnamon
1 c. pumpkin puree ½ tsp. ginger
1/4 c. cornmeal ½ tsp. ground cloves
2 large egg yolks 1 ½ tsp. salt
2 Tbsp. dry milk powder 1 c. pecan pieces, toasted
Combine yeast and warm water, stir to dissolve. Let stand 3 minutes. Mix in honey, pumpkin, cornmeal, egg yolks, milk powder, and 2 cups of the flour. Add butter, then the remaining 2 cups flour, the cinnamon, ginger, cloves, and salt. Knead until smooth and elastic, about 5-10 minutes. Let rest 20 minutes. Knead in pecans. Cover and let rise until doubled, about 1 ½ -2 hours.
While it's rising, make a wash with 1/4 c. cold water and 1/2 tsp. cornstarch:
Combine the two, bring to a boil, and stir until thickened. Cover it so it doesn't form a skin, and let it cool.
Divide dough into two pieces. Shape into 16-20" long logs, and tie each into a knot. (Or shape into a ball, seam-side down, or shape into two 8x4 loaves.) Cover and let rise until nearly doubled, 1-1 ½ hours. Using a pastry brush, gently coat each loaf with the glaze. Bake at 375 degrees for 25-35 minutes, until golden brown and the surface is firm. Brush again with the glaze. This helps it have a nice shine and a thin, soft crust. Cool before cutting into 1/2" slices.